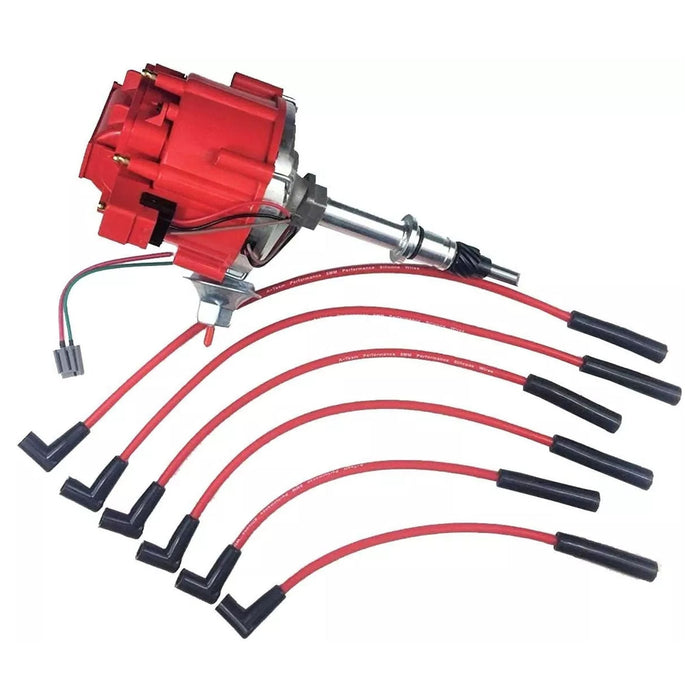 6 Cylinder Amc Jeep Inline 232 258 Hei Distributor Red Spark Plug Wires Cj5 Cj7
Original price
$129.99
-
Original price
$129.99
Availability:
In stock and ready to ship!

A-Team Performance 6 CYLINDER AMC JEEP INLINE 232 258 HEI DISTRIBUTOR RED SPARK PLUG WIRES CJ5 CJ7

KIT INCLUDES:
65K VOLT COIL HEI DISTRIBUTOR
8mm SPIRAL CORE SPARK PLUG WIRES.
POWER/TACH PIGTAIL.

A-Team Performance AMC/Jeep Straight 6 232 3.8L & 258 4.2L 65K COIL Red Cap HEI Complete Distributor One Wire Red Cap Fits Jeep models with 232 and 258 6 Cylinder Engines Easy One Wire Hookup for CJ5, CJ7, Wrangler and Wagoneer Introducing the NEW High Performance line of A-Team Performance HEI Distributors.

A-Team Performance components offer a quality design at an affordable price.
Features a quick 1 wire instillation. Adjustable vacuum advance canister to improve economy. Our Distributor is comprised of Brass Terminals, multi-polymer protective caps, a CNC Machined and Polished Aluminum shaft, and a chrome moly gear.

You cannot afford to buy a Distributor with a cheap gear! Inside, the 4-Pin High Performance module (to ensure accurate and reliable timing to 7500 RPM) and, a 65K Volt coil work together to produce a powerful spark to light the fuel mixture for amazing performance.
Our Distributors make switching from the old points to electronic ignition an easy no-brainier!

We offer a one-year warranty on this A-Team Performance HEI Distributor.


Free shipping in the continental USA except HI, AK AND PR.
Fitment