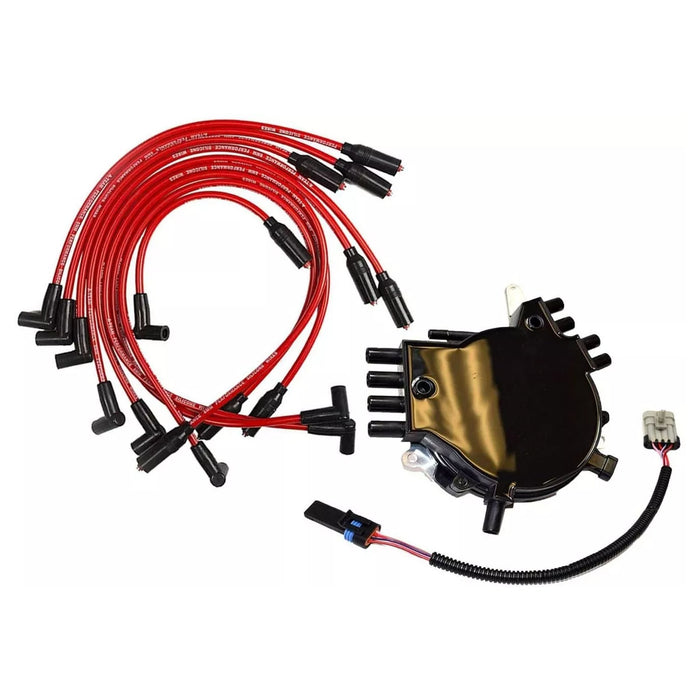 Complete Optispark Spline Drive Distributor with Spark Plug Wires Compatible with Chevy Chevrolet GMC 95-97 LT1 LT4 Corvette Camaro V8 5.7L Black Cap
Original price
$79.99
-
Original price
$79.99
Availability:
In stock and ready to ship!
A-Team Performance Complete Optispark Spline Drive Distributor with Spark Plug Wires Compatible with Chevy Chevrolet GMC 95-97 LT1 LT4 Corvette Camaro V8 5.7L Black Cap

Optispark Spline Drive Distributor

A-Team's OEM replacement EFI distributors are direct replacements for stock units, but with improvements throughout. With an aluminum housing, heavy duty bushings, and a high dielectric glass-reinforced cap, this distributor will provide OE fit and greatly improved performance and reliability.

SPECIFICATION

TRIGGER STYLE - Optical
ADVANCE TYPE - Computer-controlled
CAP STYLE - Crab-style Female
COIL TYPE - External
HOUSING MATERIAL - Cast Aluminum
CYLINDERS - 8
FEATURE
Has a high dielectric glass-reinforced cap with an aluminum housing, and heavy-duty bushings

FITMENT
CHEVROLET SMALL BLOCK V8 GEN. II (LT-BASED)
350 ci - 5.7 L

Spark Plug Wires
It fits All Optispark Distributors HEI505BK and HEI507BK. Compatible with GM Chevy Pontiac Z28 Camaro Corvette Firebird Impala Caprice 1992-1997 5.7L 4.3L
It is in Black with straight Boot for Distributor, and Black 90 Degree Boot for Spark Plug.
For Optispark System. This kit includes an external coil wire.

In order to resist damage from heat and abrasion, the wires itself have a high dielectric strength insulator and are made of heavy glass braid for added pull strength, topped with heavy-duty heat resistant silicone jackets and high-temperature black boots.

Free Shipping in the Continental US!
Fitment