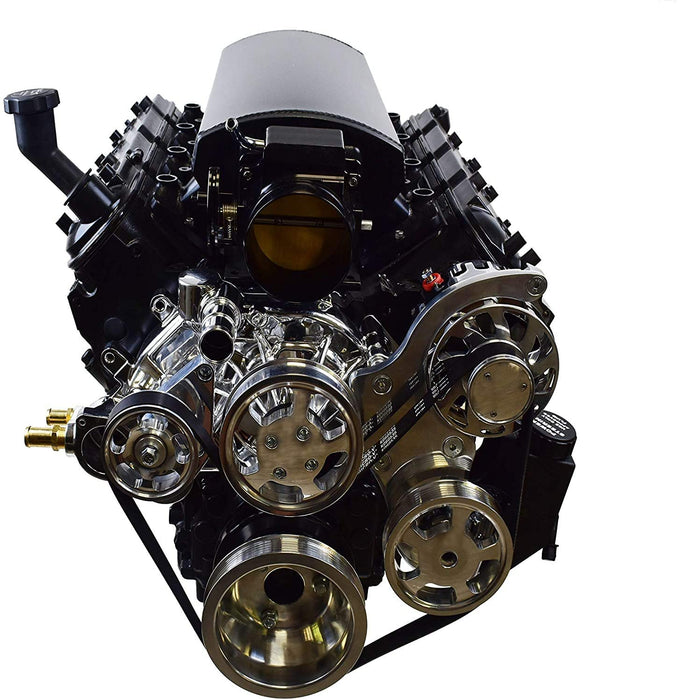 Front Drive Serpentine Pulley Kit GM No A-C 5.7 6.0 6.2 Compatible With Chevy GM LS LS1 LS2 LS6, Black
Original price
$1,699.99
-
Original price
$1,699.99
Availability:
In stock and ready to ship!
A-Team Performance Front Drive Serpentine Pulley Kit GM No A/C 5.7 6.0 6.2 Compatible With Chevy GM LS LS1 LS2 LS6, Black

Designed for performance and style, A-Team's full serpentine front drive system is sure to turn heads. If you're looking for a way to dress up your LS swap, look no further. And the best part: this kit comes with everything you need.

BRACKETS AND PULLEYS
Easily the biggest draw to this kit are the brackets and pulleys. CNC-machined from 6061-T6 aluminum, they are available in a striking matte black or gorgeous polished finish. Everything from screw to tensioner was designed to add function while maintaining a clean and eye-popping aesthetic. This is sure to make any LS1, LS2, or LS6 an immediate attention-grabber.

WATER PUMP
We've taken our high-quality OEM replacement LS1 water pump and customized it specifically for this kit. On top of the heavy duty impeller shaft and bearings, we've added a custom hub to make installation with this kit a breeze. And it's got a gorgeous chrome finish to perfectly match the other accessories.

ALTERNATOR
Providing the electrical power in this kit is our 160-amp GM CS130 style alternator. It features an internal regulator, one-wire capability, a battery side post, and of course, a beautiful chrome finish.

POWER STEERING PUMP
When it came time to address power steering with this kit, we looked only at the GM Type II (Saginaw TC Series) style pump. With it's immense popularity among engine swaps and performance applications, it was a no-brainer. We've designed ours for performance and reliability, meeting or exceeding OEM specifications. Presented here in a quality chrome finish. This kit includes a Reservoir for the P/S Pump.

HARMONIC BALANCER DAMPER
Rounding out the kit is our harmonic balancer, which is 30% more efficient above 5,000 rpm and frees up horse power over stock dampers. The shell is CNC-machined and is designed to mount to the crank hub so the timing marks never change position. It features an inertia ring and hub and is rebuild-able and tunable by replacing the elastomer strips. As an added feature, with the exposed inertia weight marked at TDC, you can tell that the elastomer strips need replacing when the marks start to move. All-around, this harmonic balancer has been built to handle your high performance LS engine with ease.

SPECIFICATIONS

BRACKET & PULLEY MATERIAL: 6061-T6 Billet Aluminum
ALTERNATOR TYPE: CS130 Style
ALTERNATOR OUTPUT: 160 Amps
WATER PUMP: Customized OE Replacement
POWER STEERING PUMP TYPE: GM Type 2 (Saginaw TC Series)
HARMONIC BALANCER TYPE: High Performance
HARMONIC BALANCER MATERIAL: Steel
BELT TENSIONER: Included
BELT TENSIONER STYLE: Custom Design
SPACERS & HARDWARE: Included
SERPENTINE BELT: 6-Rib, 53.5" Length
GATES BELT #: K060535
BELT INCLUDED: Yes
INCLUDED

Brackets & Pulleys
Water Pump
Alternator
Power Steering Pump w/Reservoir
Harmonic Balancer
Belt Tensioner
Installation Hardware
Instruction Manual
FITMENT
CHEVROLET SMALL BLOCK V8 GEN. III/IV (LS-BASED)
5.7 L / 346 in LS1
5.7 L / 346 in LS6
6.0 L / 364 in LS2
6.2 L / 376 in LS3*

FITMENT NOTES
Installation on LS3 engines requires replacing water pump backing plate bolts with M6 x 1.00 x 15mm flathead screws
Will not fit VVT engines, as they are fitted with a larger timing cover
Will not work with hydroboost systems!
Due to the relocation of certain accessories, may not fit in stock applications (See dimensions)

FREE SHIPPING IN THE CONTINENTAL USA!!!
Fitment