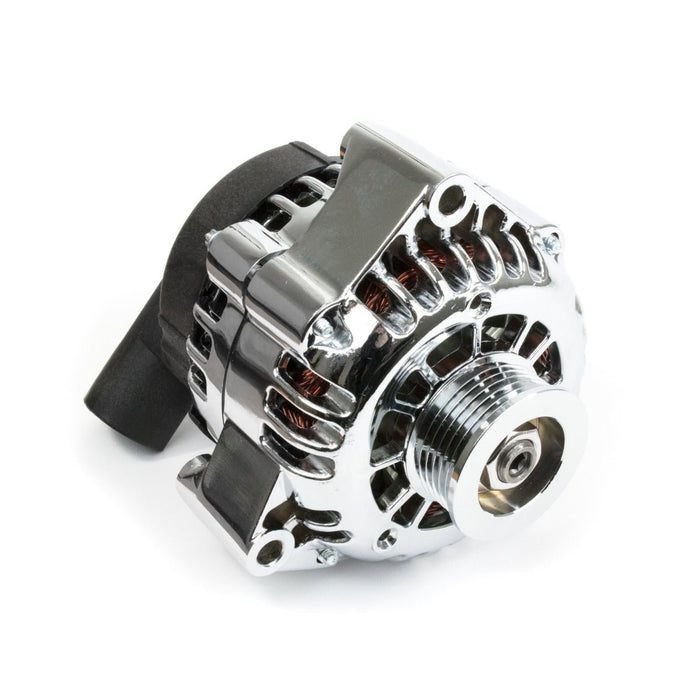 GM CS130D Style High Output 180 Amp Alternator Chevrolet Chevy Small Block SBC V8 GEN. III-IV (LS-BASED) 5.7 L- 346 in3 LS1 Chrome
Original price
$179.99
-
Original price
$179.99
A-Team Performance GM CS130D Style High Output 180 Amp Alternator

A-Team Performance alternators are a great addition to your engine, whether it's for the great look or the reliable high-amperage output.
This alternator produces 180 amps, which is a huge jump above stock.
It is perfect for vehicles with a lot of accessories and equipment. As this is style used in most LS-era truck applications, it is equipped to take the OEM connection.

SPECIFICATIONS

ALTERNATOR STYLE: CS130D
MAXIMUM AMPERAGE OUTPUT: 180 Amps
VOLTAGE COMPATIBILITY: 12 Volts
ONE-WIRE CAPABLE: No
REGULATOR STYLE: Internal
REGULATOR INCLUDED: Yes
PULLEY INCLUDED: Yes
PULLEY STYLE: Serpentine
ALTERNATOR FINISH: Chrome
FITMENT
CHEVROLET SMALL BLOCK V8 GEN. III/IV (LS-BASED)
346 ci - 5.7 L

NOTES

Direct fit for CS130D alternator used in Camaro and Firebird from 1998-2002
FREE SHIPPING IN THE CONTINENTAL USA!
Fitment