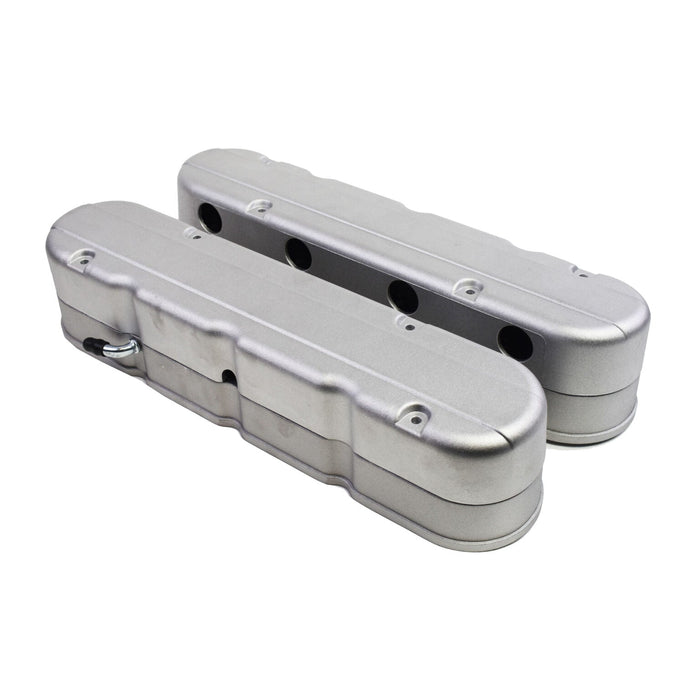 GM LS Smooth Cast Aluminum Valve Covers with Coil Mounts and Covers Compatible with Chevy Small Block SB V8 293 325 376 427 Satin
Sold out
Original price
$299.99
-
Original price
$299.99
Availability:
Out of stock
A-Team Performance GM LS Smooth Cast Aluminum Valve Covers with Coil Mounts and Covers Compatible with Chevy Small Block SB V8 293 325 376 427, Satin

You can take the time and effort to relocate them or you get a set of A-Team's two-piece valve covers.
The base has a tall internal height to allow for added valvetrain clearance and features provisions for mounting two of the most popular LS coil packs - no brackets required.
It also features a baffled stock-style ventilation set-up.
The coil cover features cut-outs for routing the wiring harness and spark plug wires and comes with a classic, finned top.

Accepts Gen 1 (Delco D580) and Gen 5 (Delco D510C/ 81015) LS style ignition coils.

Specifications:

Mounting Style: Center Bolt
Internal Height: Tall
Overall Height: 4.25"
Baffled: Yes
Cover Material: Cast Aluminum
Gasket Style: Included One-piece O-ring
Valve Cover Hardware: Not Included
Coil Cover Hardware: Included
Quantity: 2
Included:
Coil Cover Mounting Hardware, Coil Hardware & Spacers, Low-profile Oil Fill Caps and Valve Cover Gaskets
Compatible With
Chevrolet Small Block V8 Gen. III/IV (LS Based)
4.8 L / 293 Ci
5.3 L / 325 Ci
5.7 L / 346 Ci Commonly Referred to as 350
6.0 L / 364 Ci
6.2 L / 376 Ci
7.0 L / 427 Ci

Notes

Valve Cover Base Mounts to LS1, LS2, LS3, LS6, and LS7 Engines
Has Provisions for Delco 510c (81015) and D580 Style Ignition Coils
Free shipping in the continental USA!
Fitment