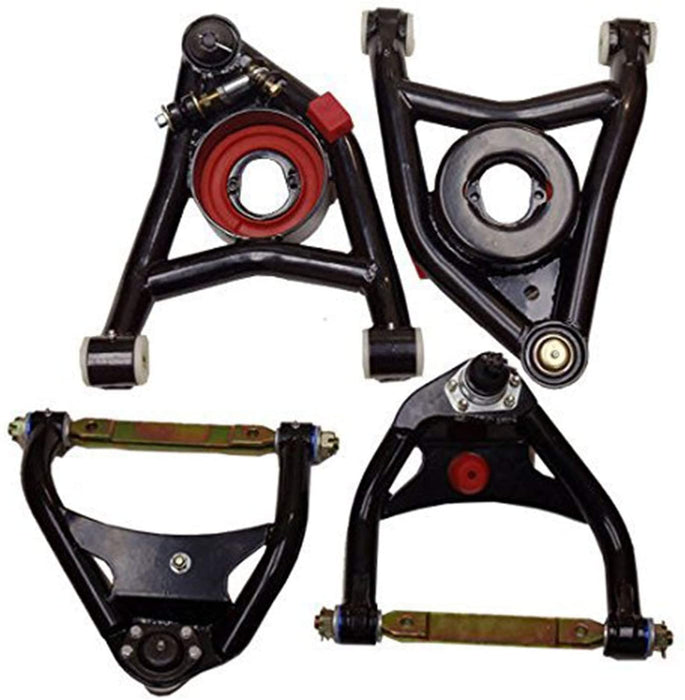 Heavy Duty Control Arm Upper & Lower Tubular A Arms GM 64-72 Chevelle GTO Malibu
Original price
$299.99
-
Original price
$299.99
Availability:
In stock and ready to ship!
A-Team Performance Heavy Duty Control Arm Upper & Lower Tubular A Arms GM 64-72 Chevelle GTO Malibu

This listing is for a brand new set of heavy duty tubular Upper and Lower A-Arms for 1964-1972 Chevelle, Monte Carlo, Malibu, El Camino, GTO, Tempest, LeMans, and Cutlass. Suspension geometry is improved over stock by increasing camber gain and improving roll camber.

These control arms are redesigned for better steering and suspension.
The control arms feature steel cross shafts which incorporate aluminum bushings.
The upper control arms also utilize greaseable bushings which make for increased stiffness over stock to provide more consistent and precise handling.
The bushings also have machined bevel, stainless washers, and stainless lock nuts.

The upper control arms also feature powder coated gloss black machined tube ends for precision fits which are assembled with ball joints.
The tubular lower control arms replace stock lower control arms.
These new tubular lower control arms feature a robust tubular design with gussets and cross brace, bushings with steel housings and crush tubes, and a powder coated gloss black finish.
The conventional lower coil spring pocket features a stamped steel pocket with a positive spring locating feature and nutserts for the shock lower attachment.
CAD Designed Mandrel Bent Tig Welded Laser Cut CNC Machined Tubular Steel Construction Ball Joints included Ready for coil springs Powder Coated Black for long lasting finish No Modification Required Much Stronger than Factory Needed for Air bags or Coil-Overs Impoves Suspension Geometery High-Wear No-Squeak Bushings Improves Handling These arms features massively reinforced spring pockets to stand up to the extra pressures exerted by the reduced travel of the suspension on lowered vehicles.
The arms handle pressures that would fold the OEM control arms in half.

These control arms are designed for cars that are being lowered.
This allows you to get fantastic performance from the suspension of your lowered vehicle by ensuring the correct camber angle when using drop spindles or drop coils.
If you are going to use of coil-overs, air struts, drop springs or spindles to lower your vehicle then these are the arms you need.
They will fit all air suspension systems, including QA-1, Afco, and Air Ride Technologies, as well as any brand of drop spring such as Eibach, etc.

These control arms are specifically designed and reinforced to solve the problem of the increased and more focused load on the control arm at the shock attachment points.
Other control arms simply can't safely handle the increased pressure of the coil-over shock or airbag assembly as compared to the stock spring assembly which spreads the load over a larger surface area.
Includes factory style ball joints and will work with any spindle that is designed for use with factory ball joints

This is a complete set that includes the ball joints, bump stops, and Derlin control arm bushings.
The Delrin bushings rotate independently of the inner sleeve and arm, which make them much longer lived than the competitions.
These advanced bushings will also give you better handling as compared with stock soft rubber bushings as suspension deflection is reduced by the stiffer bushing.

NOTE:
These arms have dropped spring pockets to allow for use of isolator pads.
If you use your stock springs without isolator pads you will get about 1 inch of drop to your front end. A 1/2 inch isolator pad will reduce this to about 1/2 inch.

Applications:
1964-1972 Chevy Chevelle 1964-1972 Chevy Monte Carlo 1964-1972 Chevy Malibu 1964-1972 Chevy El Camino 1964-1972 Pontiac GTO 1964-1972 Pontiac Tempest 1964-1972 Pontiac LeMans 1964-1972 Oldsmobile Cutlass

Please note:
These will lower your car 1"-1.5"
FREE SHIPPING IN THE CONTINENTAL USA EXCEPT PR, HI and AK.
Fitment