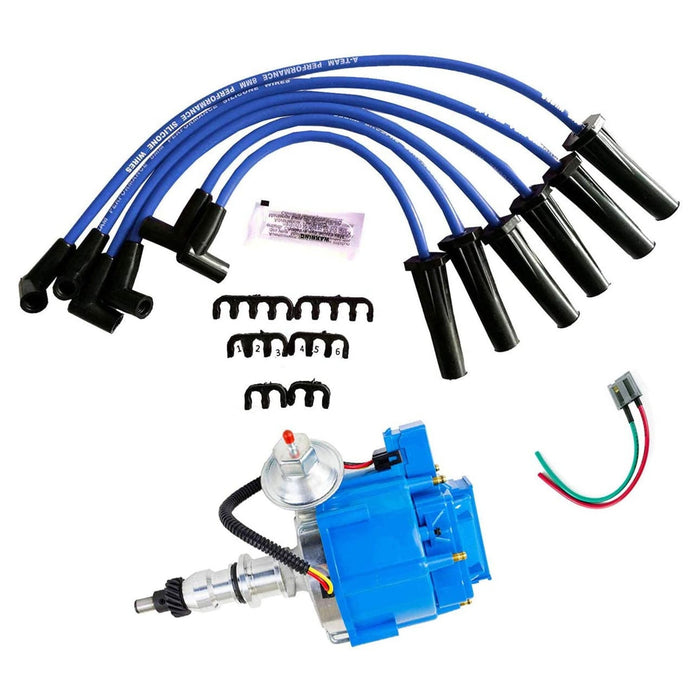 HEI Complete Distributor Blue Cap with 6CYL 8mm Blue Silicone Spark Plug Wires Set and Pigtail Wiring Harness Tachometer For Ford Inline 6 144 170 200 250 5-16 Hex Shaft
Original price
$134.99
-
Original price
$134.99
Availability:
In stock and ready to ship!
A-Team Performance HEI Complete Distributor Blue Cap with 6CYL 8mm Blue Silicone Spark Plug Wires Set and Pigtail Wiring Harness Tachometer Compatible with Ford Inline 6 144 170 200 250 5/16 Hex Shaft

A-Team's HEI Distributor has everything you need, all under one cap.
With a high-quality aluminum housing and hardened steel dual bushing construction, it is built to last.
It features fully adjustable mechanical and vacuum advances, meaning precision is a breeze.
It has a high-output module, high-spark 65,000 volt coil, solid brass terminals, and an easy one-wire hookup.

Fitment:
Ford Inline 6 (1964 and Later)
2.4 L / 144 ci (not offered in the United States after 1964)
2.8 L / 170 ci
3.3 L / 200 ci
4.1 L / 250 ci

Spark Plug Wires (Blue)
Top performance and affordable; that's what A-Team Performance 8.0mm Blue Silicone Spark Plug Wires promise to deliver. It has Black 90-Degree Boot for HEI Distributor, Black Straight Boot for Spark Plug and Coil-in-Cap HEI Design System.
HEI Pigtail Harness (Tachometer)

A-Team Performance 170072 HEI Distributor Battery and Tachometer Pigtail Harness are color coded to make it easy to identify the tach and battery connections.
Locking tab and shark fin ensure a tight positive fit and a reliable connection between your wiring and HEI.
Made of high temperature plastic rated at more than 250 degrees. Two 7" leads for easy installation and a clean connection.

Kit Includes:
1- 65k Volt Coil Hei Distributor
1- 8mm Spark Plug Wires
1- Power/Tach Pigtail

Free shipping in the continental USA!
Fitment