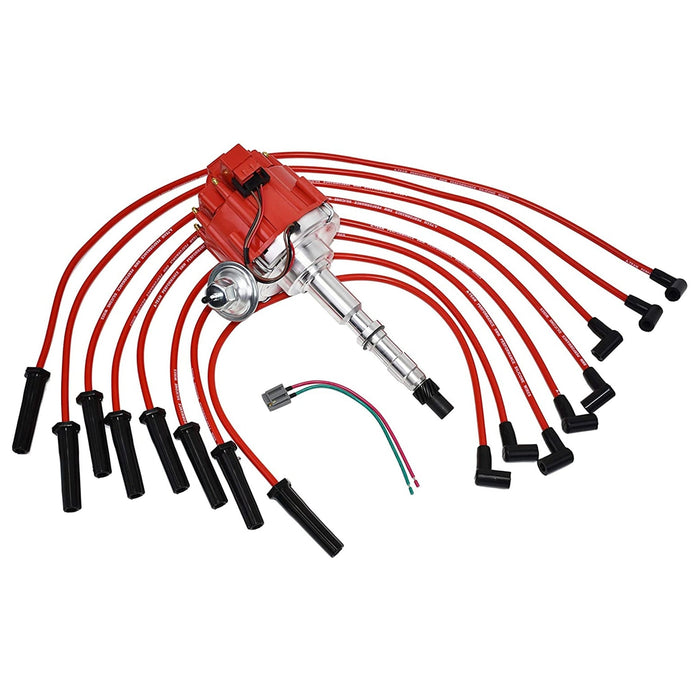 HEI Distributor 65K Red Cap, Silicone Spark Plug Wires Set Red and Pigtail Harness Kit For AMC Jeep 1967-90 290 304 343 360 390 401
Save

20

%
Save

20

%
Original price
$156.49
-
Original price
$156.49
Availability:
In stock and ready to ship!
A-Team Performance HEI Distributor 65K Red Cap, Silicone Spark Plug Wires Set Red and Pigtail Harness Kit Compatible with AMC Jeep 1967-90 290 304 343 360 390 401

Introducing the New High-Performance line of A-Team Performance HEI Distributors. A-Team Performance components offer a quality design at an affordable price.
Features a quick one-wire installation. Adjustable vacuum advance canister to improve the economy.
Our Distributor is comprised of Brass Terminals, multi-polymer protective caps, a CNC-Machined and Polished Aluminum shaft, and a chrome-moly gear.
You cannot afford to buy a Distributor with cheap gear! Inside, the 4-Pin High-Performance module (to ensure accurate and reliable timing to 7500 RPM) and a 65K Volt coil work together to produce a powerful spark to light the fuel mixture for an amazing performance.

Fitment:
AMC V8
4.8 L / 290 ci
5.0 L / 304 ci
5.6 L / 343 ci
5.9 L / 360 ci
6.4 L / 390 ci
6.6 L / 401 ci

Spark Plug Wires (Red)
Top performance and affordable; that's what A-Team Performance 8.0mm Red Silicone Spark Plug Wires Set promises to deliver. It has a Black 90-Degree Straight Boot for HEI Distributor, Straight Boot for Spark Plug and Coil-in-Cap HEI Design System.

HEI Pigtail Harness (Tachometer)
A-Team Performance 170072 HEI Distributor Battery and Tachometer Pigtail Harness are color coded to make it easy to identify the tach and battery connections. Locking tab and shark fin ensure a tight positive fit and a reliable connection between your wiring and HEI. Made of high temperature plastic rated at more than 250 degrees. Two 7" leads for easy installation and a clean connection.

Kit Includes:

1- 65k Volt Coil Hei Distributor
1- 8mm Spiral Core Spark Plug Wires
1- Power/Tach Pigtail
Free shipping in the continental USA!
Fitment