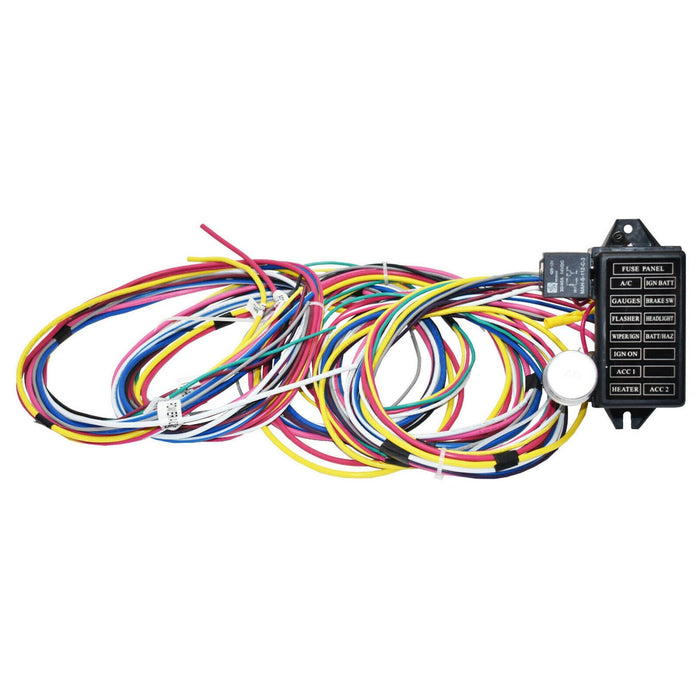 12 Circuit Universal Wire Harness Muscle Car Hot Rod Street Rod XL Wires
Original price
$59.99
-
Original price
$59.99
Availability:
In stock and ready to ship!
A-Team Performance 12-Circuit Standard Universal Wiring Harness Kit Muscle Car Hot Rod Street Rod New XL Wire Cable

This A-Team Performance 12 pre-wired fuse block is the perfect solution for those projects that are not using a lot of additional electric/power options. It features 12 fuses and 12 circuits. The wires are long and can be used on almost all vehicles. We had a customer used this on an ambulance and had plenty of lengths. All wires are labeled every 12 inches so installation is simple.

In addition, the labeling every 5 inches makes check circuits EASY. These kits are universal and come with detailed specific instructions pages for GM, Ford, and Mopar installations. To make installation even easier, the wires are GM color coded.

This A-Team Performance wiring kit includes fuses for turn signal, Headlight, ACC, Radio, Brake, Fan, Wiper, Hazard, Gauges, AC/Heat, Coil & Horn. It also includes Horn Relay and Connector, Turn and Hazard Signals, Dimmer Switch Connector, Circuit Breaker for Headlights, 2 Flashers, and more.


Free shipping in the continental USA except HI, AK AND PR.
Fitment