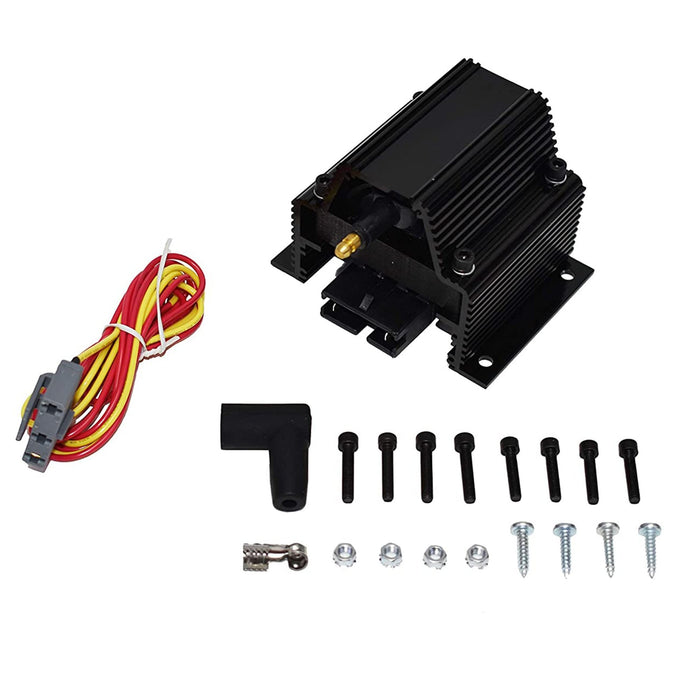 50,000 Volt Remote E-Coil Ignition Coil Black
Original price
$34.99
-
Original price
$34.99
Availability:
In stock and ready to ship!
A-Team Performance 50,000 Volt Remote E-Coil Ignition Coil Black


A-Team's E-Core Ignition Coil has a new design that better dissipates heat. Its square shape allows for easy mounting on a firewall or fender, and it comes with a plug wire connector for a clean installation.
The E-Core magnet puts out 50,000 volts, or about 70% more spark energy over most stock applications, giving you a much hotter and larger spark to burn fuel more efficiently and provide smooth acceleration throughout the entire RPM band.

Secured in a billet aluminum housing, our ignition coil features a top-quality epoxy internal construction, a brass wire attachment, and premium e-core magnet to ensure superior output and lasting performance.

SPECIFICATIONS:

COIL STYLE - E-core
INTERNAL CONSTRUCTION - Epoxy
PRIMARY RESISTANCE - 0.35 ohms
SECONDARY RESISTANCE - 8,000 ohms
MAXIMUM VOLTAGE - 50,000 volts
SPARK DURATION - 200 microseconds
PEAK CURRENT - 260 milliamperes
TURNS RATIO - 100:1
INDUCTANCE - 7.0 millihenrys
COIL SHAPE - Square
HOUSING MATERIAL - Billet Aluminum
COIL WIRE ATTACHMENT - Male


Free shipping in the continental USA!
Fitment