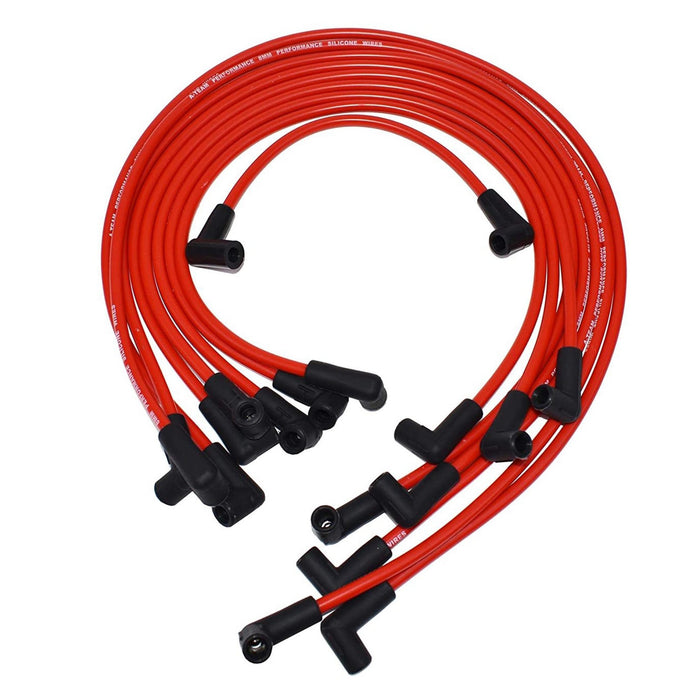 8.0mm Red Silicone Spark Plug Wires V6 V8 Compatible With Chevy Chevrolet GMC 4.3L 5.0L 5.7L TBI EFI
Original price
$34.99
-
Original price
$34.99
Availability:
In stock and ready to ship!
A-Team Performance 8.0mm Red Silicone Spark Plug Wires V6 V8 Compatible With Chevy Chevrolet GMC 4.3L 5.0L 5.7L TBI EFI

A-Team Performance spark plugs are high premium quality spark plugs.

This spark plug is compatible w/ Chevy Chevrolet GMC 4.3L 5.0L 5.7L TBI EFI
It is in Black with 90 Degree Boot for HEI Distributor, and Black 90 Degree Boot for Spark Plug. For TBI EFI Distributors.
This wire Kit includes an external coil wire.

In order to resist damage from heat and abrasion, the wires itself have a high dielectric strength insulator and are made of heavy glass braid for added pull strength, topped with heavy-duty heat resistant silicone jackets and high-temperature black boots.

FEATURES:

8.0mm Red Silicone Spark Plug Wire Set.
High-temperature tolerance and is made of 100% pure silicone insulator for the outer layer.
Spiral-Wound Copper Conductor has Extremely Low Resistance combined with extremely high EMI suppression.
Fast and easy installation.

We offer a one-year warranty on this A-Team Performance Spark Plug Wire Set.

Please Note:
This set is designed to be used with HEI Distributors. Therefore it does not include a coil wire.
A-Team Performance Parts offers a coil wire, sold separately.
This Product Has Free 2-3 Day Shipping in the Contiguous United States!

Free shipping in the continental USA!
Fitment