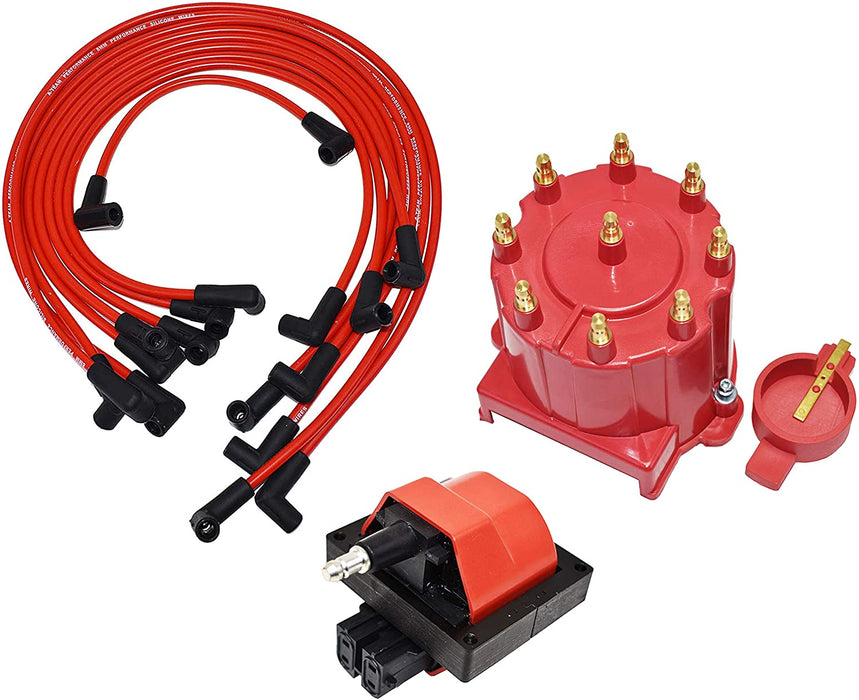 8-Cylinder EFI Distributor Cap & Rotor, Remote Ignition Coil And 8.0mm Spark Plug Wires Kit For 87-94 Chevy GM 5.0L 5.7L 7.4L 454 305 350, Red
Original price
$94.99
-
Original price
$94.99
Availability:
In stock and ready to ship!
A-Team Performance 8-Cylinder EFI Distributor Cap & Rotor, Remote Ignition Coil And 8.0mm Spark Plug Wires Kit Compatible With 87-94 Chevy GM 5.0L 5.7L 7.4L 454 305 350, Red

A-Team Performance EFI cap is composed of a high-strength polymer and features solid brass terminals, and comes complete with the rotor. It is designed to fit a GM or A-Team EFI distributor.

Specifications

Distributor Type: GM EFI
Terminal Type: Male
Terminal Material: Brass
Attachment Type: Clamp
Cylinders: 8
Compatible With:

Chevrolet Big Block V8 Gen. II (Mark IV)
7.4 L / 454 ci
Chevrolet Big Block V8 Gen. V
7.4 L / 454 ci
Chevrolet Big Block V8 Gen. I
5.0 L / 305 ci
5.7 L / 350 ci
8.0mm Silicone Spark Plug Wires Set Automotive Wire Accessories
It is in Black with 90 Degree Boot for the Distributor, and Black 90 Degree Boot for Spark Plug. For TBI EFI Distributors. In order to resist damage from heat and abrasion, the wires itself have a high dielectric strength insulator and are made of heavy glass braid for added pull strength, topped with heavy-duty heat resistant silicone jackets and high-temperature black boots.

EFI E-Core Ignition Coil Dual Connector
Our GM E-Core ignition coils are the top coils on the market today, featuring magnetic steel cores specially designed to deliver up to 15% more spark than OEM. They use a high resistant epoxy material for added resistance to shock and vibration at high RPM.

Kit Includes

1 x EFI Distributor Cap
1 x Rotor
1 x Remote Ignition Coil
1 x Silicone Spark Plug Wires Set
Free shipping in the continental USA!
Fitment