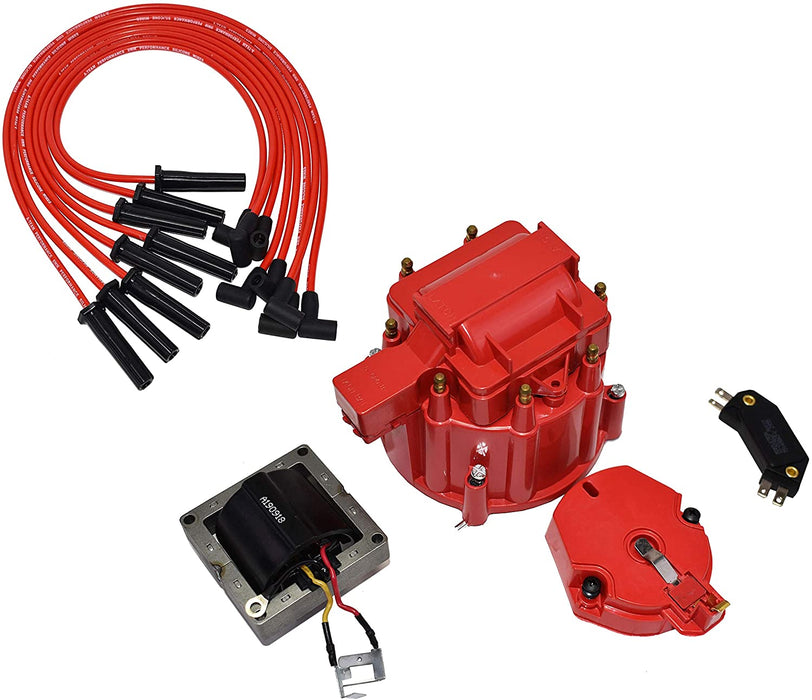 8-Cylinder Male Cap, 65K Volt Coil HEI Distributor Tune Up Kit, & 8.0mm Silicone Spark Plug Wires For Chevrolet Big Block BBC 396, 402, 427, 454 Red
Original price
$64.99
-
Original price
$64.99
Availability:
In stock and ready to ship!
A-Team Performance 8-Cylinder Male Cap, 65K Volt Coil HEI Distributor Tune Up Kit, & 8.0mm Silicone Spark Plug Wires Compatible with Chevrolet Big Block BBC 396, 402, 427, 454 Red

This kit includes an 8-cylinder HEI distributor cap, rotor, and dust cover, composed of a high-strength polymer with solid brass terminals.
Also included here is a replacement module and 65,000-volt ignition coil

Specifications

Distributor Type - HEI
Terminal Type - Male
Terminal Material - Brass
Attachement Type - Clamp
Cylinders - 8
Coil Type - Internal
Coil Output - 65,000 volts
Module Type - 4-Pin GM HEI
Compatible With:

Chevrolet Big Block V8 Gen. II (Mark IV)
6.5 L / 396 ci
6.6 L / 402 ci
7.4 L / 454 ci
8.0mm Black Silicone Spark Plug Wires Set
Black 90-Degree Boot for HEI Distributor, Black Straight Boot for Spark Plug, and Coil-in-Cap HEI Design System. It does not utilize an external coil wire.
These sturdy spark plug wires are durable and guaranteed to withstand wear and tear.

Free shipping in the continental USA!
Fitment