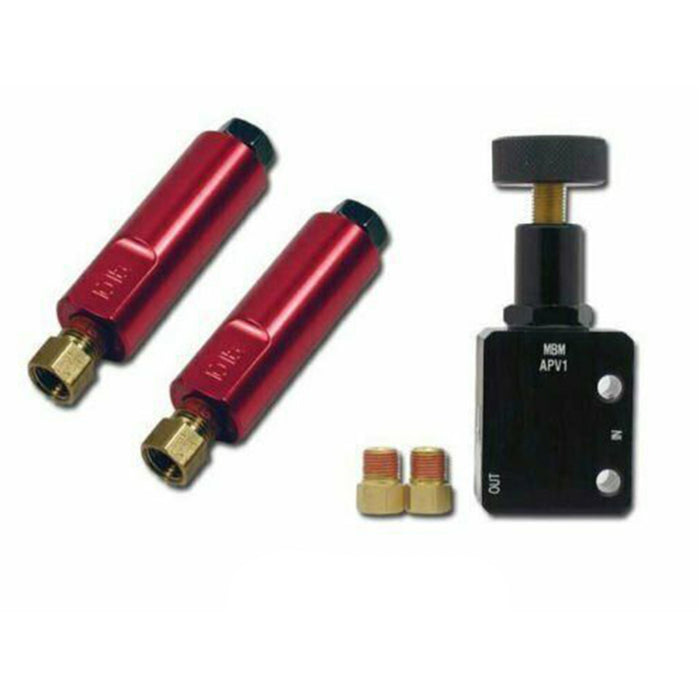 Adjustable Proportioning valve 2 10LB Residual Valve Drum- Drum
Original price
$44.99
-
Original price
$44.99
Availability:
In stock and ready to ship!
A-Team Performance Adjustable Universal Hot Rod Proportioning Valve and Residual Valves

Adjustable proportioning valves are essentially pressure reducing valves and are often utilized in disc/drum, disc/disc and drum/drum braking systems.
The valve is used to control front-to-rear brake pressure bias and will work for all types of vehicles.
Install this valve between the distribution block and the rear flex hose in the front-to rear rigid brake line.Always use tube wrenches to tighten fittings properly.
Final settings of this valve will depend on your particular vehicle, and individual preference.

Kit Includes:

(2) 10 lb residual valves
Adjustable Proportioning Valve
Drum/drum application
Adjustable valve has 3/8-24 IFF fittings.

SPECIFICATIONS
"IN" (Stamped on valve) – Rigid brake line from the distribution block to this port. On early cars: the master cylinder rear port to this port.
"OUT" (Stamped on valve) – Rigid brake line to the rear flex hose.
"DECREASE" – Reduces the brake line pressure to the rear brakes.
"INCREASE" – Increases the pressure to the rear brakes.
Maximum pressure regulation: 300 psi. Inlet port of valve: 1/8 – 27 NPT
Standard adaptors: 3/8" – 24 for 3/16" line.
Mounting hole diameter: .250" (two).
Approximately 2 lbs.

FREE SHIPPING IN THE CONTINENTAL USA!
Fitment