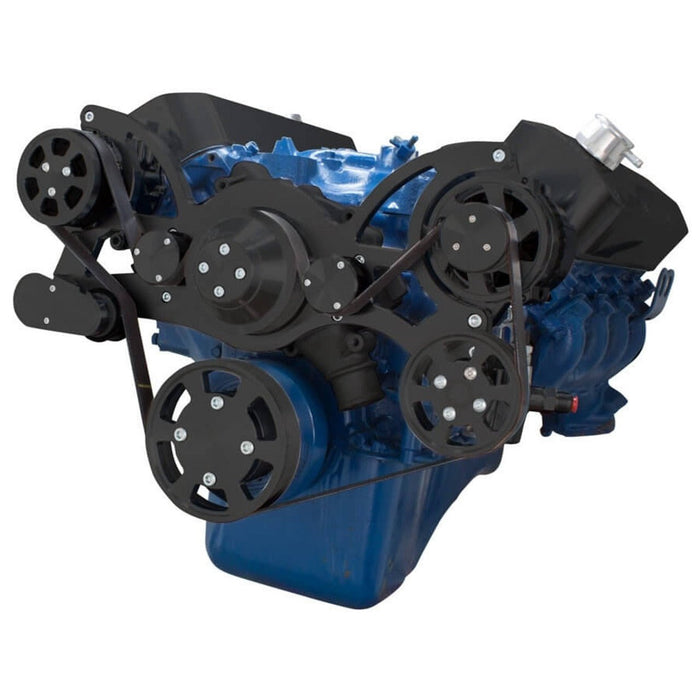 Big Block Ford BBF Serpentine Complete Kit - with Alternator, Power Steering pump, Water Pump and AC Compressor (Black)
Original price
$2,399.99
-
Original price
$2,399.99
A-Team Performance Black BBF Serpentine Complete Kit - with Alternator, Power Steering pump, Water Pump and AC Compressor

All Inclusive Serpentine System for BBF 429 & 460 engines with 140 Amp alternator,
GM Type II Power Steering Pump and Peanut Style AC compressor.
CVF Racing's 8 Rib Serpentine pulleys increase grip, reduce stretching and prevent slippage compared to traditional 6 Rib designs. Spring loaded Gates tensioner ensures proper tension during hard acceleration and deceleration while compensating for belt stretch.
Places alternator on the driver's side above the power steering pump.
High Flow Aluminum Water Pump - Black Powder Coated
140 Amp Black Powder Coated 1-Wire CS130 Alternator
Black Powder Coated Plated AC Compressor
AC Compressor Clutch Cover - Black Bright Dip Anodized Billet Aluminum
Black Powder Coated Aluminum GM Type II Power Steering Pump
Remote Mount Reservoir with Bracket - Black Bright Dip Anodized Billet Aluminum
Gates Premium Green Strip 8 Rib Belt
Water Pump Pulley & Cover - Black Bright Dip Anodized Billet Aluminum
Crank Pulley - Black Bright Dip Anodized Billet Aluminum
Crank Pulley Spacer - Billet Aluminum
Alternator Pulley & Cover - Black Bright Dip Anodized Billet Aluminum
Power Steering Pulley - Black Bright Dip Anodized Billet Aluminum
One Piece Billet Aluminum Bracket - Black Bright Dip Anodized Billet Aluminum
Universal Alternator Fan - Black Bright Dip Anodized Billet Aluminum
Application Notes:

Works with either Mechanical or Electric fuel Pump
Works with either Mechanical or Electric fan (may require long fan spacer)
Works with 1970+ factory or aftermarket balancer
Power Steering Lines from pump to reservoir not included
Fitment