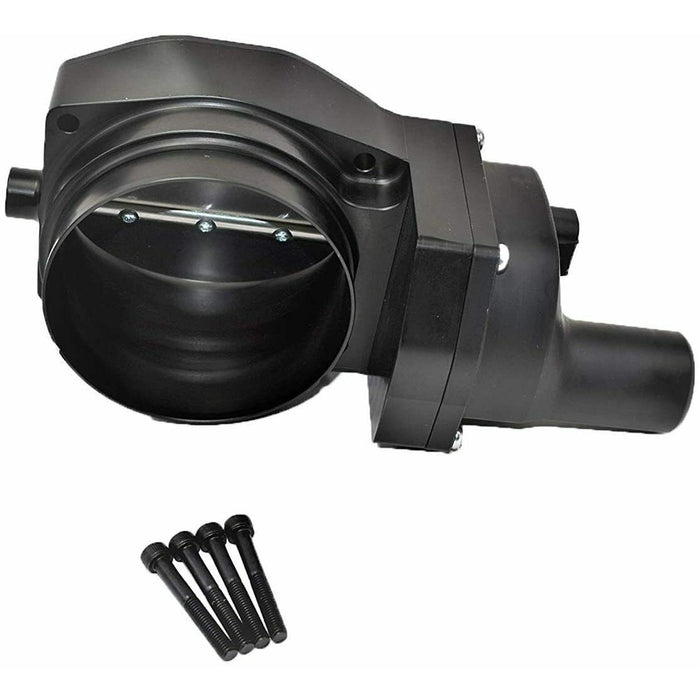 Chevy Gm Black 102 Mm 4 Bolt Throttle Body Lsx Ls Ls1 Ls2 Ls3 Ls6 Ls7 Lsx Drive By Wire
Original price
$219.99
-
Original price
$219.99
Availability:
In stock and ready to ship!
A-Team Performance CHEVY GM BLACK 102 MM 4 BOLT THROTTLE BODY LSX LS LS1 LS2 LS3 LS6 LS7 LSX DRIVE BY WIRE

Throttle Body is Dive by Wire Featuring a CNC-machined aluminum housing, this large throttle body provides maximum airflow for mid to high range horse power engines.
Combined with a A-Team Performance fabricated intake manifold, this will give your street or strip car a cosmetic and performance boost guaranteed to turn heads.
This billet aluminum throttle body is a great and economical way to increase the overall performance of your LSX engine and the ideal compliment to a fabricated intake manifold from A-Team Performance.

The large 102mm bore is guaranteed to supply maximum airflow for a high-horsepower set-up.

SPECIFICATION:

Uses 6 Pin Connector; with Gold Blade
THROTTLE BODY MATERIAL: Billet Aluminum
VENTURI QUANTITY: 1 Includes 4 Mounting Bolts
FITMENT
ALL A-TEAM PERFORMANCE LS INTAKES
NOTES:
Designed for use with A-TEAM manifolds only and stock manifolds This throttle body uses the LS2/LS7 style 6 pin plug and uses a LS7 motor. This throttle body has a 4.23" OD, so you'll want to use a 4.25" coupler. LS1 Vehicles require adapter harness. Harness allows the use of a LS2 throttle body on an LS1 vehicle.

This product is modified for higher boosted cars by a third party. And it will work on (modified):

2009-2015 CTS V (needs adapter if using stock upper pulley)
2012-2015 Camaro ZL1 (needs adapter if using stock upper pulley)
2010-2015 Camaro
2008-2011 Pontiac, G8 GT/GXP, (Needs to have the Power steering Pump relocated)
2005-2013 Corvette, C6/Z06
2005-2007 CTS-V, (LS2 Only)
2005-2011 Trailblazer SS
2005-2006 Pontiac GTO, (LS2 Only) and (Needs to have the Power steering Pump relocated)
Free shipping in the continental USA!
Fitment