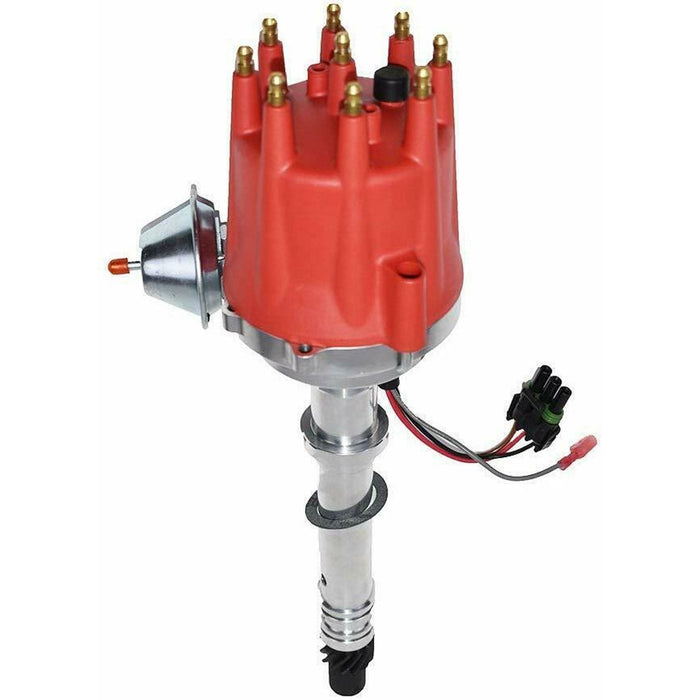 CHEVY GMC Chevrolet SBC BBC V8 327 350 396 454 Pro Billet Series Ready to Run Distributor with Fixed Collar R2R Red Cap
Original price
$99.99
-
Original price
$99.99
Availability:
In stock and ready to ship!
A-Team Performance CHEVY GMC Chevrolet SBC BBC V8 327 350 396 454 Pro Billet Series Ready to Run Distributor with Fixed Collar R2R Red Cap

Pro Billet Distributor for the SBC/BBC Chevy/GMC

A-Team Performance Series Pro Billet Distributor is for the racer who needs added spark and precision for their high-performance power plant. It features a high quality, fully adjustable mechanical advance and an accurate magnetic pick-up trigger.
The CNC-machined aluminum body and hardened steel shaft, guided by a sealed ball bearing on top and a sintered steel bushing on the bottom, ensure stability up to 10,000 RPM.
The distributor can be locked out and features solid brass terminals, a slip collar, and a color-matched wire retainer. This distributor has also been outfitted with a vacuum advance.

FULLY ADJUSTABLE MECHANICAL ADVANCE
An important feature on all A-Team Performance Pro Series distributors is the fully adjustable mechanical advance. This allows you to easily modify the distributor to achieve a variety of timing curves.
Included with all Pro Series distributors are four bushings of varied size. The bushing determines the mechanical advance the distributor can achieve. Also included are six springs, with two at each level of tension.
The springs control the rate at which the distributor reaches the advance.

FREE SHIPPING IN THE CONTINENTAL USA!!!
Fitment