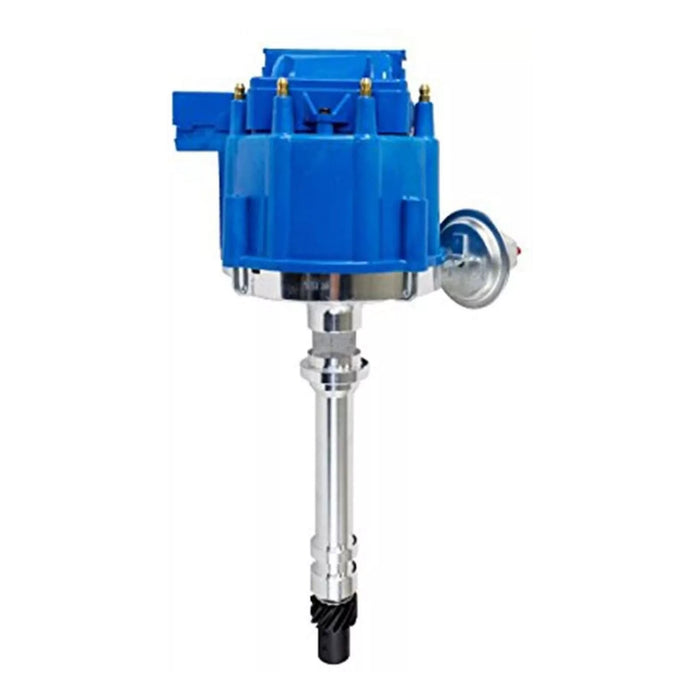 Chevy HEI Electronic Billet Distributor 65K Coil SBC 327 350 383 BBC 396 454
Original price
$64.99
-
Original price
$64.99
Availability:
In stock and ready to ship!
A-Team Performance Chevrolet HEI Distributor Small Block & Big Block 65K Volt Ignition Coil A-Team Performance BLUE

SBC BBC HEI DistributorHEI Electronic Distributors are a perfect upgrade for the enthusiast looking for an easy to install performance distributor, to put on your daily driver or weekend warrior.

Fits SBC: 283,305,307,327,350,383,400,406Fits BBC: 396,402,427,454,502
HEI distributors are packed with high-quality features and components.
They feature a 65,000 V High-Out Put Ignition Coil Medium weight advance springs, and an aluminum housing.
These distributors use a centrifugal advance assembly with coated weights and welded weight pins (not just pressed in like other models).Inside the distributors, the ignition module and coil work together to produce a stout spark to Ignite the Air Fuel mixture for great performance.

The high voltage is transferred through a specially designed rotor to the brass terminals of the distributor cap and out to the plugs.
These distributors feature the following:- Assembled entirely from NEW components - CNC machined aluminum body - Adjustable vacuum advance - Premium cap with brass terminals - Low saturation ignition module - High Output 65K Volt Coil - Reliable operation through 7000 RPM - Billet 4340 steel gear for use on cast cams* - Large diameter cap (for better spark alignment)

FREE SHIPPING IN THE CONTINENTAL US!
Fitment