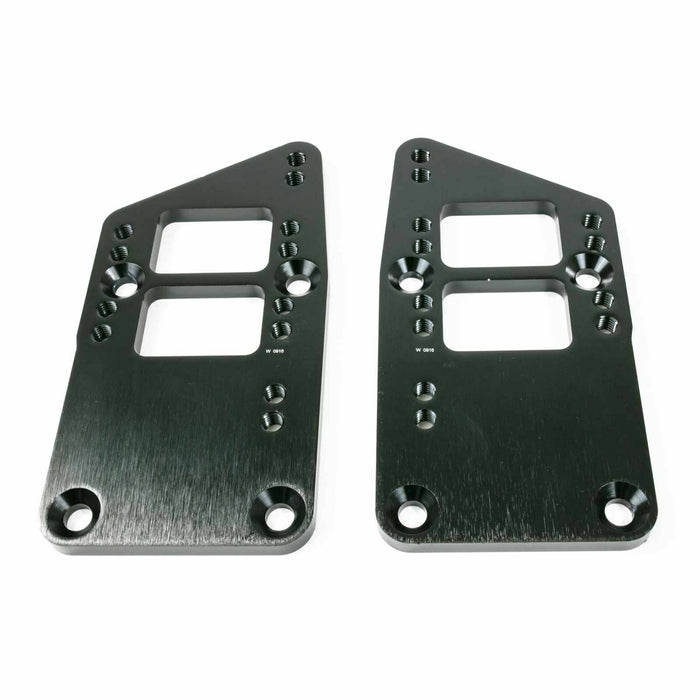 Conversion Swap Motor Mount Adapter Plates For Chevy SB-BB Camaro Nova Chevelle Impala LS LSX LS1 LS2 LS3 LS6 LQ4 LQ9 Black
Original price
$39.99
-
Original price
$39.99
Availability:
In stock and ready to ship!
A-Team Performance Conversion Swap Motor Mount Adapter Plates For Chevy SB/BB Camaro Nova Chevelle Impala LS LSX LS1 LS2 LS3 LS6 LQ4 LQ9 Black

A-Team's motor mount adapter plates allow you to swap any LSX engine into hundreds of GM applications, including most 60's and 70's pickups and cars, such as the Camaro, Nova, Chevelle, and Impala. CNC-machined, they are precision-cut to provide a secure fit to the block and motor mount, and they have been designed to allow four positions in order to accommodate just about any set-up, regardless of headers, pan, steering pump/box, etc.

It allows adjustable set back, for various firewalls and transmission tunnels fitment. Our plates will allow .62", 1.62", 2.25" frontward mounting positions, this points virtually eliminates all clearance issue for exhaust headers, aftermarket oil pans, pumps & etc.

Specifications

Engine Mount Type - Chevrolet 3-Bolt
Adapter Plate Material - Aluminum
Mounting Positions - 4
Mounting Range - 2 1/4"
Quantity - 2
Included - Mounting Hardware
Fitment
CHEVROLET Small Block V8 GEN. III/IV (LS Based)
4.8 L / 293 ci
5.3 L / 325 ci
5.7 L / 346 ci
6.0 L / 364 ci
6.2 L / 376 ci
7.0 L / 427 ci
NOTES

Intended to adapt to 3-bolt engine mount used in most Chevy or GMC V8 applications from 1963-1972
Free shipping in the continental USA!
Fitment