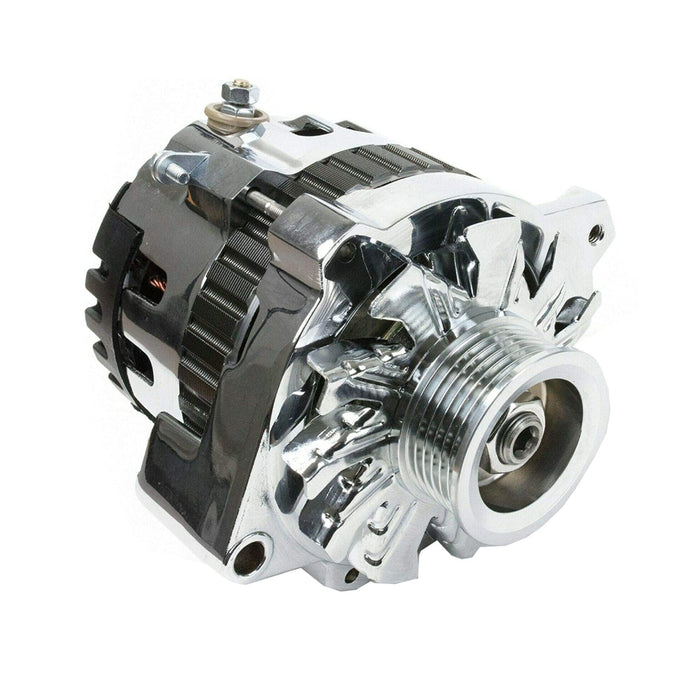 CS130 Type 220 Amp Alternator with Serpentine Pulley Chevrolet BB V8 GEN. II, V, SB V8 GEN. I GM Diesel V8, GM Inline 4, 6, GM V6, Oldsmobile V6, Chrome
Sold out
Original price
$149.99
-
Original price
$149.99
Availability:
Out of stock
A-Team Performance GM CS130 Type 220 Amp Alternator with Serpentine Pulley Compatible with Chevrolet BB V8 GEN. II, V, SB V8 GEN. I GM Diesel V8, GM Inline 4, 6, GM V6, Oldsmobile V6, Chrome

A-Team Performance alternators are a great addition to your engine, whether it's for the great look or the reliable high-amperage output. This alternator produces 160 amps, which is a significant jump above stock. It is perfect for vehicles with a lot of accessories and equipment and is perfect for hot rod or muscle car applications.
It can be wired with a one-wire or three-wire set-up.

SPECIFICATIONS

ALTERNATOR STYLE: GM CS130
MAXIMUM AMPERAGE OUTPUT: 220 Amps
VOLTAGE COMPATIBILITY: 12 Volts
ONE-WIRE CAPABLE: Yes
REGULATOR STYLE: Internal
REGULATOR INCLUDED: Yes
PULLEY INCLUDED: Yes
PULLEY STYLE: Serpentine
FITMENT
CHEVROLET BIG BLOCK V8 GEN. II (MARK IV)
454 ci - 7.4 L
CHEVROLET BIG BLOCK V8 GEN. V
454 ci - 7.4 L
CHEVROLET SMALL BLOCK V8 GEN. I
305 ci - 5.0 L
350 ci - 5.7 L
GM DIESEL V8
379 ci - 6.2 L
395 ci - 6.5 L
GM INLINE 4
151 ci - 2.5 L
GM INLINE 6
292 ci - 4.8 L
GM V6
173 ci - 2.8 L
181 ci - 3.0 L
OLDSMOBILE V8
307 ci - 5.0 L

NOTES
Commonly used in GM vehicles from 1985-1993

Alternators differ by application; verify dimensions before ordering.

Free shipping in the continental USA!
Fitment