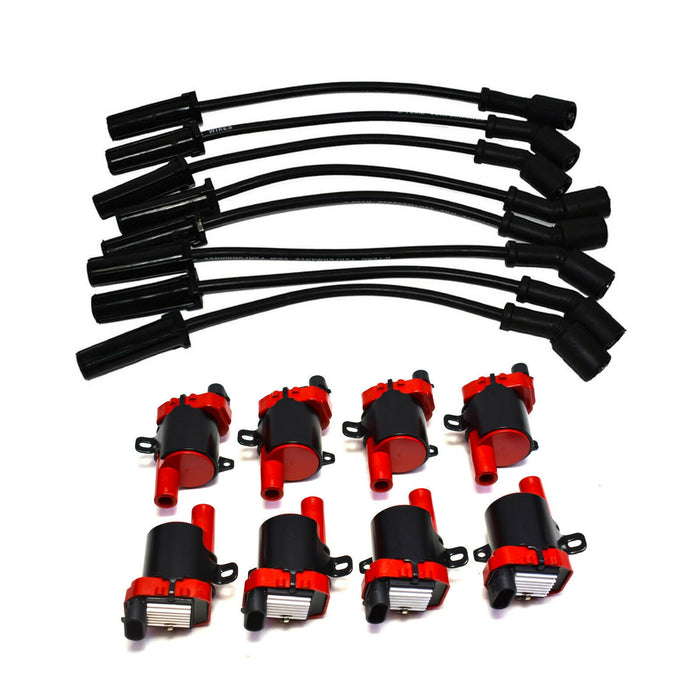 D585 Ignition Coils & 11" 8.0mm Spark Plug Wires For Chevrolet GM GMC LS LSX LS1 LS2 LS3 LS6 LS7 Red Coils & Black Wires
Original price
$154.99
-
Original price
$154.99
Availability:
In stock and ready to ship!
A-Team Performance D585 Ignition Coils & 11" 8.0mm Spark Plug Wires For Chevrolet GM GMC LS LSX LS1 LS2 LS3 LS6 LS7 Red Coils & Black Wires

A-Team Performance LSX ignition coils are the top coils on the market today, featuring magnetic steel cores specially designed to deliver up to 15% more spark than OEM.
They use a high resistant epoxy material for added resistance to shock and vibration at high RPM. This is a high-output replacement of the Delco D585 ignition coil.

Specifications:

Coil Style - Coil Pack
Internal Construction - Epoxy
Primary Resistance- 0.500 ohms
Secondary Resistance - 2,000 ohms
Maximum Voltage - 40,000 volts
Spark Duration - 300 microseconds
Peak Current - 220 milliamperes (mA)
Turns Ratio - 75:1
Inductance - 2.7 millihenrys (mH)
Coil Wire Attachment - Female
Quantity - 8
Fitment:
Chevrolet Small Block V8 Gen. III/IV (LS based)
293 ci – 4.8 L
325 ci – 5.3 L
364 ci – 6.0 L

Note:
Fits most LS Truck Engines
Check Coil connector to make sure it matches what is on your engine
11" 8.0mm Black Silicone Spark Plug Wires
Its silicone double-layer jacketing serves as heat protection on its low-resistance conductor feature. These sturdy spark plug wires are durable to withstand wear and tear.

Kit Includes:

Black Spark Plug Wires & Red Coils
Free shipping in the continental USA!
Fitment