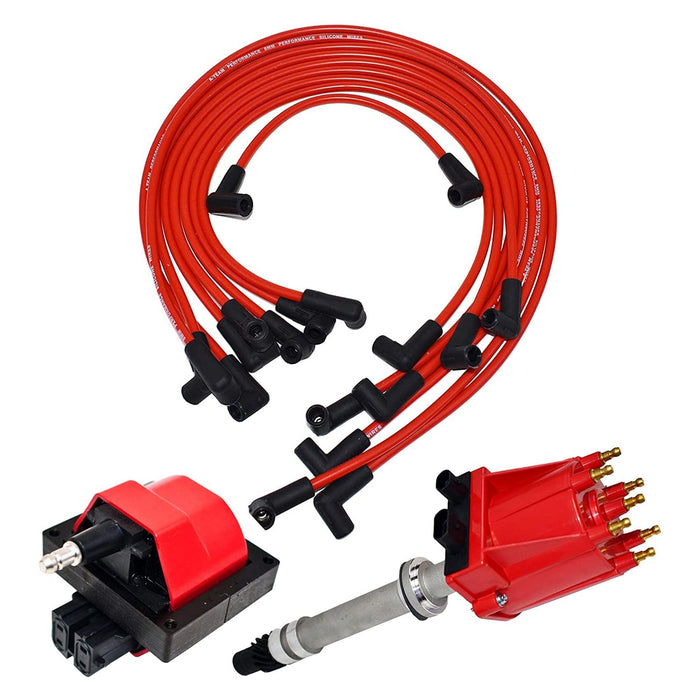 Distributor, 8mm Spark Plug Wires, and E-Core Ignition Coil Set Compatible With 1985-199 Chevy GMC 4.3L V6 TBI Blazer S10 S15 Jimmy Sonoma C K Truck Pontiac Red Cap & Wires
Original price
$109.99
-
Original price
$109.99
Availability:
In stock and ready to ship!
A-Team Performance Distributor, 8mm Spark Plug Wires, and E-Core Ignition Coil Set Compatible With 1985-199 Chevy GMC 4.3L V6 TBI Blazer S10 S15 Jimmy Sonoma C K Truck Pontiac Red Cap & Wires

EFI TBI DISTRIBUTOR:
A-Team's OEM replacement EFI distributors are direct replacements for stock units, but with improvements throughout. With a CNC-machined aluminum housing, steel internal construction, and a high-quality magnetic pick-up trigger, this distributor will provide OE fit and greatly improved performance and reliability.

COMPATIBLE WITH

SPARK PLUG (RED):
A-Team Performance spark plugs are high premium quality spark plugs.
This spark plug is compatible with Chevy Chevrolet GMC 4.3L 5.0L 5.7L TBI EFI.
It has a 90 Degree Black Boot for HEI Distributor, and 90 Degree Black Boot for Spark Plug. For TBI EFI Distributors. This wire Kit includes an external coil wire.
We offer a one-year warranty on this A-Team Performance Spark Plug Wire Set.

Please Note:
This set is designed to be used with HEI Distributors. Therefore it does not include a coil wire. A-Team Performance Parts offers a coil wire, sold separately.
Free shipping in the continental USA!!!
Fitment