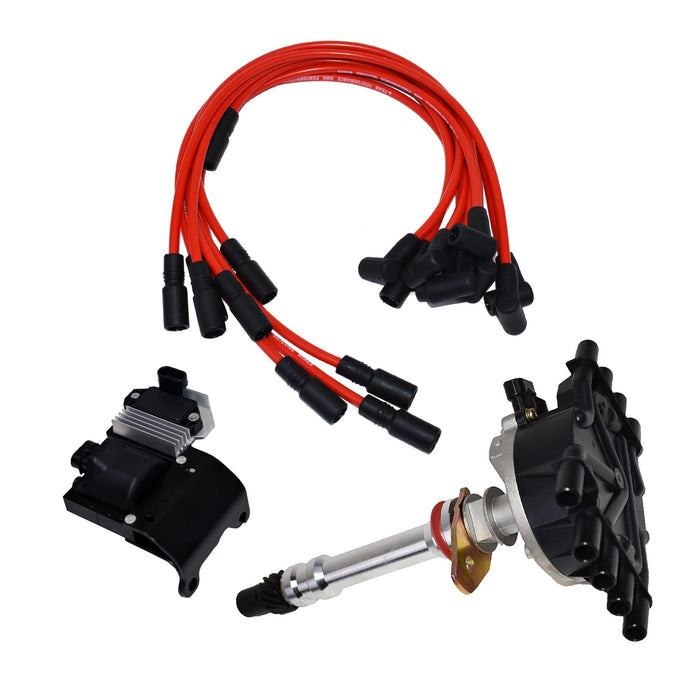 Distributor, 8mm Spark Plug Wires, Ignition Coil, and Ignition Module Kit Compatible with 1996-2002 Chevrolet GM EFI Vortec C1500 K1500 C2500 K2500 Black Cap & Red Wires
Sold out
Original price
$110.99
-
Original price
$110.99
Availability:
Out of stock
A-Team Performance Distributor, 8mm Spark Plug Wires, Ignition Coil, and Ignition Module Kit Compatible with 1996-2002 Chevrolet GM EFI Vortec C1500 K1500 C2500 K2500 Black Cap & Red Wires

Introducing the NEW High Performance line of A-Team Performance Distributors. A-Team Performance components offer a quality design at an affordable price.

A-Team Performance's EFI Distributors offer a great alternative to the OEM price.
They are designed and constructed to meet or exceed all OEM standards. With cast aluminum bodies and solid brass terminals, these are a no-brainer when replacing an EFI distributor.

EFI Distributor Specifications:

TRIGGER STYLE - Magnetic Pick-up
ADVANCE TYPE - Computer-controlled
CAP STYLE - Crab-style Female
COIL TYPE - External
GEAR MATERIAL - Chromoly Steel
HOUSING MATERIAL - Machined Aluminum
CYLINDERS - 8
Spark Plug Wires Key Features:

PROMISE TO DELIVER — Top performance and quick installation
PRODUCT DETAILS – Black Straight Boot for Crab Style Vortec Distributor, Black 90 Degree Boot for Spark Plug
LONG-LASTING SERVICE — Low-resistance heat conductor that can withstand wear and tear and last for years
COMPATABILITY — Product is compatible with GMC Chevy GMC Truck SUV Vortec 5.0L 5.7L 5700. 350 1996-2002
COMPATIBLE WITH:

5.0 L / 305 ci commonly referred to as Vortec 50005
7 L / 350 ci commonly referred to as Vortec 5700
Free shipping in the continental USA!!!
Fitment