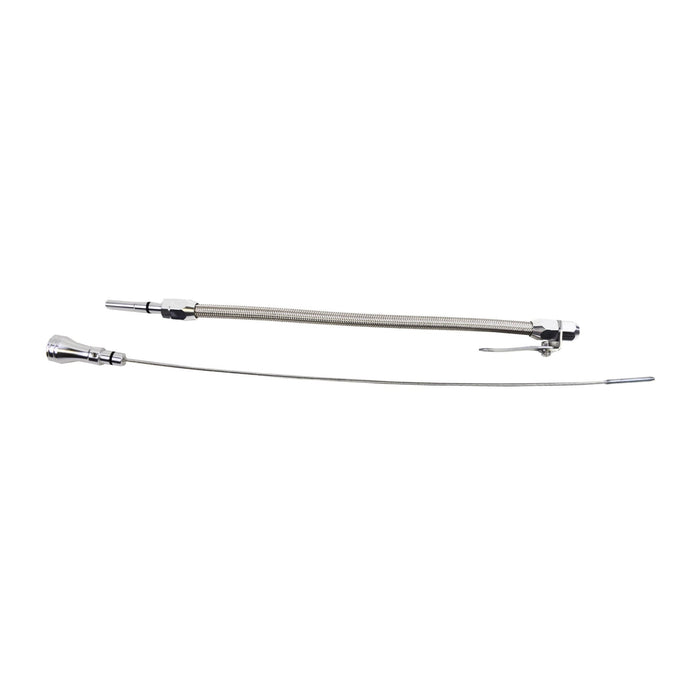 Flexible Oil Dipstick Stainless Steel Housing Compatible With LS Car Engines LSX LS1 LS2 LS2 LS6 4.8L 5.7L 6.0L 6.2L
Original price
$29.99
-
Original price
$29.99
Availability:
In stock and ready to ship!
A-Team Performance Flexible Oil Dipstick Stainless Steel Housing Compatible With LS Car Engines LSX LS1 LS2 LS2 LS6 4.8L 5.7L 6.0L 6.2L

This dipstick pushes in to the factory block passage and seals using an oaring.
It his held in place using as swiveling bracket to bolt to cylinder head.
The flexibility of this dipstick allows you to utilize with any exhaust manifold or header on the market.
The locking feature allows you to contain the dipstick so that pressure spikes in the crank case do not push the dipstick out making a mess and potentially putting oil on the ground.

Features:

Eliminate Expulsion Of Dipstick
Holds Vacuum
Teflon-Lined Stainless Braided Outer Housing
Flexible Inner Dipstick Measuring Cable
Marks for Low and Full

Compatible With

LS Car EnginesLSX LS1 LS2 LS2 LS6 4.8L 5.7L 6.0L 6.2L
Free shipping in the continental USA!
Fitment