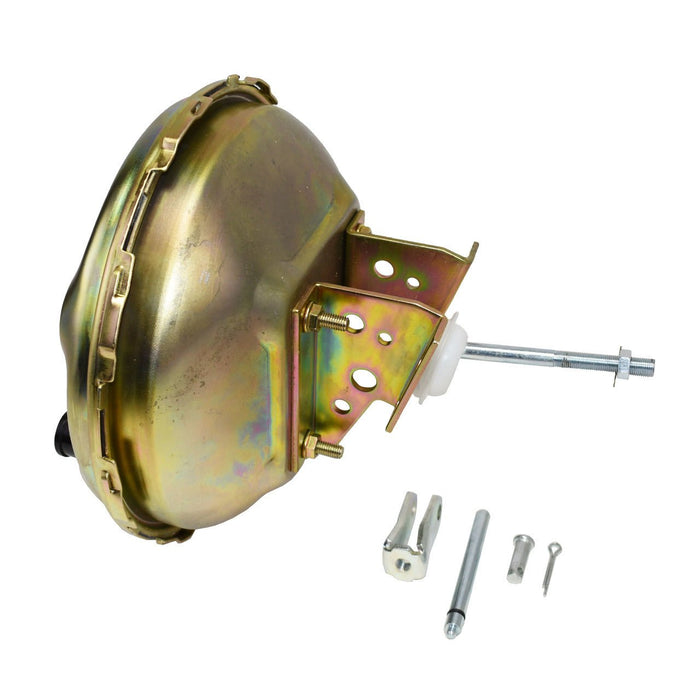 GM 64-72 A, F, X BODY 11" DELCO STYLE BRAKE BOOSTER ZINC
Original price
$89.99
-
Original price
$89.99
Availability:
In stock and ready to ship!
A-Team Performance GM 64-72 A, F, X BODY 11" DELCO STYLE BRAKE BOOSTER ZINC

1964-1972 A Body, 1967-1969 F Body, 1968-1964 X Body
11" Single Diaphragm Power Brake Booster
Angled brackets are riveted on the back
No Delco Moraine Stamp
Zinc Chromate Finish
Delco Style

Specification:

Brake Booster Type: Vacuum Diaphragm
Brake Booster Finish: Cadmium Zinc plated
Mounting Pattern: Bracket
Brake Booster Diameter: 11 Single

Fitment:

1964-1972 Buick Skylark
1964-1969 Buick Special
1967-1969 Chevrolet Camaro
1964-1972 Chevrolet Chevelle
1964-1972 Chevrolet El Camino
1964-1967 Chevrolet Malibu
1970-1972 Chevrolet Monte Carlo
1964-1971 Oldsmobile 442
1964-1972 Oldsmobile Cutlass
1964-1972 Oldsmobile F85
1964-1972 Oldsmobile Vista Cruiser
1967-1969 Pontiac Firebird
1964-1972 Pontiac GTO
1964-1972 Pontiac Lemans
1964-1970 Pontiac Tempest
FREE SHIPPING IN THE CONTINENTAL USA!!!
Fitment