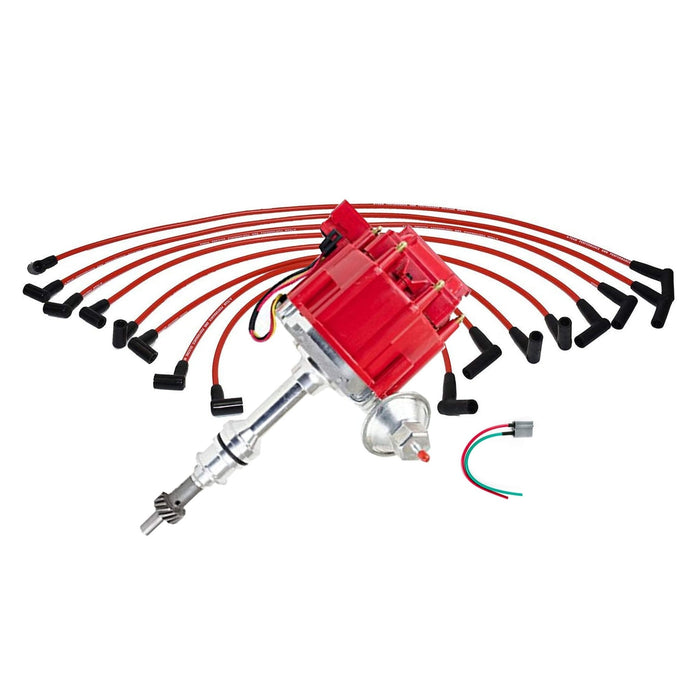 HEI Distributor, 8.0mm Spark Plug Wires, and Battery-Pigtail Harness Kit For Ford 351W Windsor 351W One-Wire Installation Red Cap
Original price
$140.99
-
Original price
$140.99
Availability:
In stock and ready to ship!
A-Team Performance HEI Distributor, 8.0mm Spark Plug Wires, and Battery-Pigtail Harness Kit Compatible with Ford 351W Windsor 351W One-Wire Installation Red Cap

A-Team's HEI Distributor has everything you need, all under one cap.
With a high-quality aluminum housing and hardened steel dual bushing construction,
It is built to last. It features fully adjustable mechanical and vacuum advances, meaning precision is a breeze.
It has a high-output module, high-spark 65,000 volt coil, solid brass terminals, and an easy one-wire hookup.

Specifications
Trigger Style - Magnetic
Advance Type - Mechanical & Vacuum
Cap Style - Male
Coil Included - Yes
Coil Type - Internal
Coil Output - 65,000 volts
Housing Material - Machined Aluminum
Cylinders - 8

Compatible With:

Ford Small Block Windsor V8
5.8 L / 351 in often referred to as "351W"
Free shipping in the continental USA!
Fitment