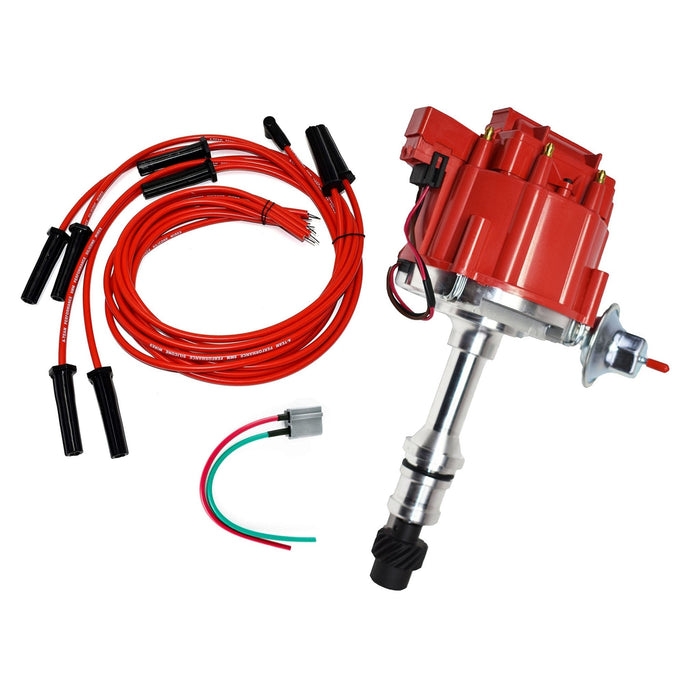 HEI Distributor, 8.0mm Spark Plug Wires, and Battery-Pigtail Harness Kit For Oldsmobile V8 Small Block Big Block 260 307 330 350 400 403 425 455 Red
Sold out
Original price
$99.99
-
Original price
$99.99
Availability:
Out of stock
A-Team Performance HEI Distributor, 8.0mm Spark Plug Wires, and Battery-Pigtail Harness Kit Compatible with Oldsmobile V8 Small Block Big Block 260 307 330 350 400 403 425 455 Red

A-Team's HEI Distributor Kit has everything you need, all in one kit.
HEI Distributor has a high-quality aluminum housing and hardened steel dual bushing construction, it is built to last.
A CNC machined billet aluminum housing ensures a perfect fit, harden steel internals ensure stability and long-lasting performance. Its high-output ignition module and powerful 65,000-volt coil mean that you'll have everything you'll need to power your high-performance engine.

Compatible With:
Oldsmobile V8
4.3 L / 260 ci
5.0 L / 307 ci
5.4 L / 330 ci
5.7 L / 350 ci
6.6 L / 400 ci
6.6 L / 403 ci
7.0 L / 425 ci
7.5 L / 455 ci

8.0mm Red Silicone Spark Plug Wire Set:
Wires are made for HEI Distributors 90 Degree Boot on the Distributor side and, Black Straight Boot for Spark Plug Side. For Coil-in-Cap "HEI" Design System.
High-temperature tolerance and is made of 100% pure silicone insulator for the outer layer. Spiral-Wound Copper Conductor has Extremely Low Resistance combined with extremely high EMI suppression

HEI Pigtail Harness:
HEI Distributor Battery and Tachometer Pigtail Harness Eliminates the need for obsolete spade terminals that can fall off and kill your ignition.
Color coded to make it easy to identify the tach and battery connections.
Locking tab and shark fin ensure a tight positive fit and a reliable connection between your wiring and HEI. Made of high-temperature plastic rated at more than 250 degrees.
Two 7" leads for easy installation and a clean connection.


Free shipping in the continental USA!
Fitment