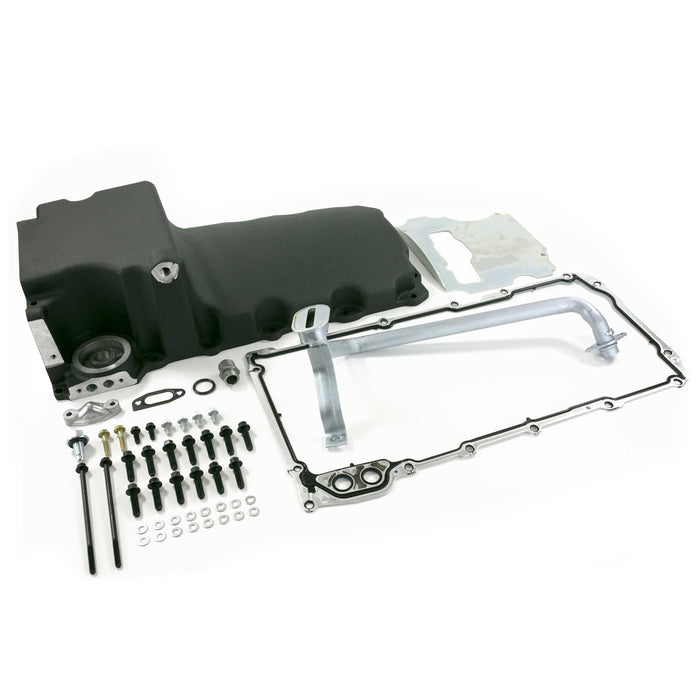 LS Aluminum Rear Sump Retro-Fit Oil Pan for Chevrolet SB V8, Black
Sold out
Original price
$289.99
-
Original price
$289.99
Availability:
Out of stock
A-Team Performance LS Aluminum Rear Sump Retro-Fit Oil Pan Compatible with Chevrolet SB V8 GEN. III, IV, Black
A-Team Performance LS engines are among the most popular for swaps for their low expense and great power potential. Unfortunately, stock LS oil pans can't always fit where you want them to. That's where A-Team Performance's low-profile, retro fit oil pan comes in. Composed of lightweight cast aluminum, it is designed to allow for increased clearance to the ground and chassis. It will fit many GM rear-wheel drive applications originally equipped with a small or big block Chevy engine and factory rear sump pan. Meticulously designed, it will mount perfectly to any wet-sump LS engine and take the stock oil filter.
SPECIFICATIONS
SUMP STYLE: Wet
SUMP LOCATION: Rear
SUMP DEPTH: 5.69"
MAXIMUM STROKE: 4.25"
OIL FILTER LOCATION: Stock
SUMP OIL CAPACITY: 5.5 Quarts
TOTAL OIL CAPACITY: 6.0 Quarts with Stock Filter
BAFFLED: Yes
WINDAGE TRAY: Not Included
OIL PICK-UP: Included
GASKET: Included
INCLUDED:
Oil Pan Gasket
Sump Baffle
Oil Pickup Tube
Drain Plug
Oil Filter Stud
Oil Passage Cover
Mounting Hardware
FITMENT
CHEVROLET SMALL BLOCK V8 GEN. III/IV (LS BASED)
293 ci - 4.8 L
325 ci - 5.3 L
346 ci - 5.7 L
364 ci - 6.0 L
376 ci - 6.2 L
Free shipping in the continental USA!
Fitment