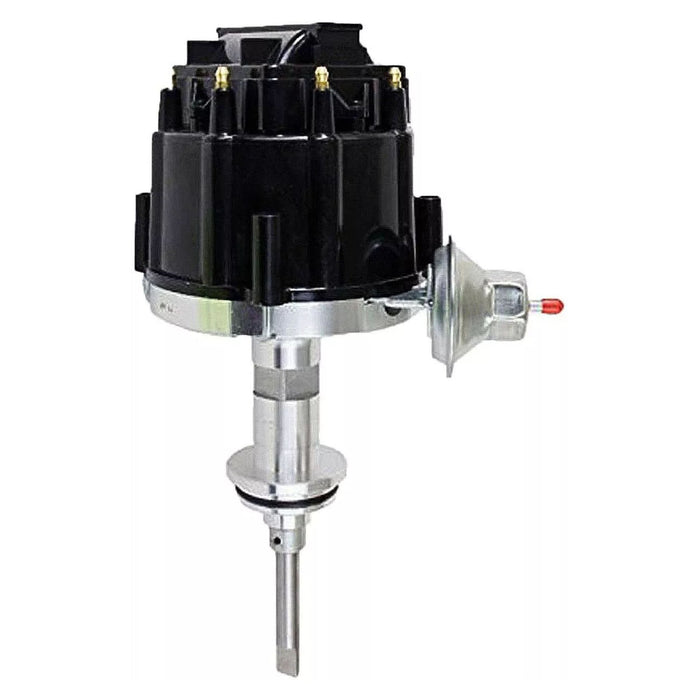 Mopar Early Hemi 392 HEI Distributor Dodge Chrysler Plymouth 65K Coil Black
Original price
$99.99
-
Original price
$99.99
Availability:
In stock and ready to ship!
A-Team Performance MOPAR EARLY HEMI 392 BLACK HEI Distributor DODGE CHRYSLER PLYMOUTH 65K COIL

A-TEAMS HEI Distributor has everything you need, all under one cap. With a high-quality aluminum housing and hardened steel dual bushing construction, it is built to last. It features fully adjustable mechanical and vacuum advances, meaning precision is a breeze. It has a high-output module, high-spark 65,000 volt coil, solid brass terminals, and an easy one-wire hookup.
FEATURE-PACKED

Packed with design and build features, our HEI distributor offers a whole lot of bang for your buck. A CNC machined billet aluminum housing guarantees a perfect fit, harden steel internals ensure stability and long-lasting performance. Its high-output ignition module and powerful 65,000-volt coil mean that you'll have everything you'll need to power you high performance engine. With adjustable mechanical and vacuum advances and a simple one-wire hookup, easy is an understatement.
SPECIFICATIONS
TRIGGER STYLE: Magnetic
ADVANCE TYPE: Mechanical and Vacuum
CAP STYLE: Male
MECHANICAL TACH DRIVE: No
SLIP COLLAR: No
COIL INCLUDED: Yes
COIL TYPE: Internal
COIL OUTPUT: 65,000 volts
GEAR MATERIAL: Chromoly Steel
HOUSING MATERIAL: Machined Aluminum
IGNITION BOX REQUIRED: No
MARINE USE: No
CYLINDERS: 8
INCLUDED: Vacuum Advance Adjustment Tool
Installation Instructions
FITMENT

CHRYSLER HEMI V8 GEN. I ("FIREPOWER")
392 ci - 6.4 L
FITMENT NOTES
Will not fit low deck blocks
Distributor gear is most compatible with cast iron hydraulic or solid flat tappet camshafts; consult cam manufacturer for recommended gear material
Free shipping in the continental USA!
Fitment