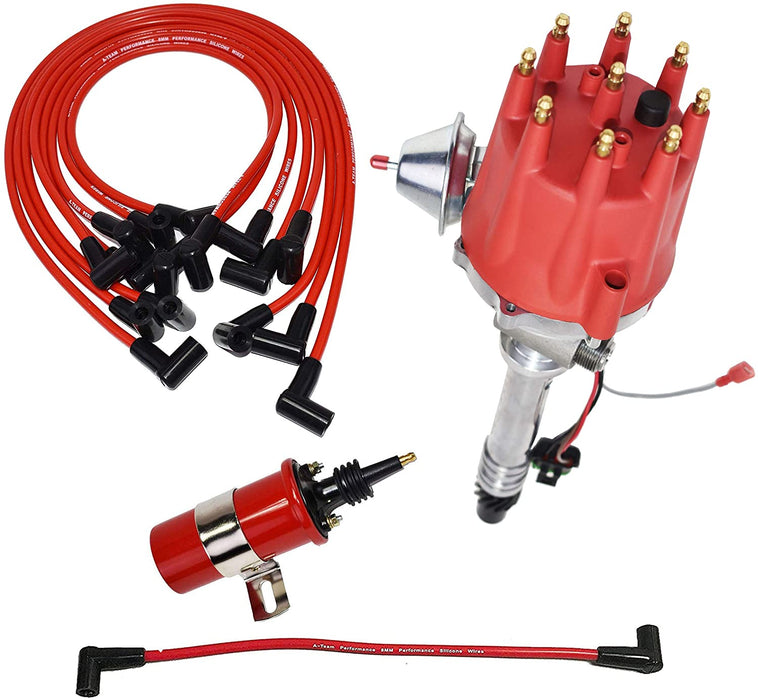 Pro Series R2R Distributor, 8.0mm Over the Valve Cover Spark Plug Wires, & 45K Volt Coil For Chevy Corvette SBC Tach Drive 262 265 267 283 302 305 307 327 350 400 Red
Original price
$194.99
-
Original price
$194.99
Availability:
In stock and ready to ship!
A-Team Performance Pro Series R2R Distributor, 8.0mm Over the Valve Cover Spark Plug Wires, & 45K Volt Coil For Chevy Corvette SBC Tach Drive 262 265 267 283 302 305 307 327 350 400 Red
A-Team Performance Pro Series Ready to Run Distributor is perfect for a street performance ignition upgrade. It features a CNC-machined billet aluminum body and hardened steel shaft, with a sealed ball bearing on top and a sintered steel bushing on the bottom.
Compatible With:
Chevrolet Small Block V8 Gen.I
4.3 L/262 ci
4.3 L/265 ci
4.4 L/267 ci
4.6L/ 283 ci
4.9 L/302 ci
5.0 L/305 ci
5.0 L/307 ci
5.4 L/327 ci
5.7 L/350 ci
6.6 L/400 ci
Notes:
Will not fit tall deck blocks.
Will not fit if using a governor.
45,000 Volts Oil Filled Male Ignition Coil Canister
A-Team Performance brings You The Classic Canister - Sometimes Called "Beer Can" - Style Ignition Coil. Constructed Of High-Quality Materials, Utilizing Top Manufacturing Standards, This Coil Provides Superior Quality And Performance. With A Whopping 45,000-Volt Output, You'll Have More Than Enough Spark For Any Performance Distributor Set-Up.
8.0mm Over the Valve Spark Plug Wire
Over The Valve Covers, Black 90-Degree Boot for Distributor, Black 90-Degree Boot for Spark Plug. Its silicone double-layer jacketing serves as heat protection on its low-resistance conductor feature. These sturdy spark plug wires are durable and guaranteed to withstand wear and tear.
8.0mm Red Coil Wire
Black 90 Degree Boot for Distributor, Black 90 Degree Boot for Male Coil.
Free shipping in the continental USA!
Fitment