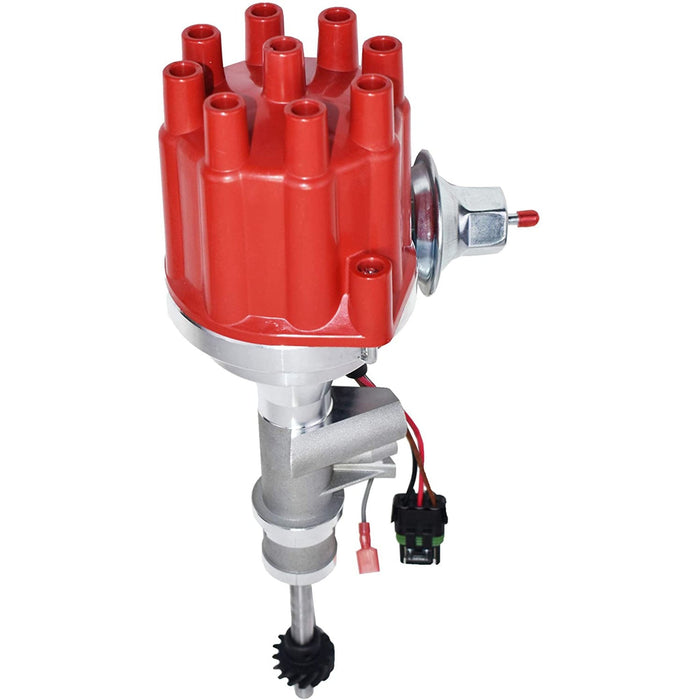 Pro Series Ready to Run Distributor Compatible with 1955-1957 Ford Thunderbird Y-Block Tach Drive 272 292 312, Female Red Cap
Sold out
Original price
$249.99
-
Original price
$249.99
Availability:
Out of stock
A-Team Performance Pro Series Ready to Run Distributor Female Red Cap Compatible with 1955-1957 Ford Thunderbird Y-Block Tach Drive 272 292 312
A-Team Performance's Pro Series Ready to Run Distributor is perfect for a street performance ignition upgrade. It features a CNC-machined billet aluminum body and hardened steel shaft, with a sealed ball bearing on top and a sintered steel bushing on the bottom. It also comes with a fully adjustable mechanical advance, vacuum advance, magnetic pickup trigger, and a high-output circuit board module with digital tach output. The dielectric cap comes with solid brass terminals and a color-matched wire retainer.
SPECIFICATIONS



TRIGGER STYLE - Circuit Board Module with Magnetic Pick-up

ADVANCE TYPE - Mechanical and Vacuum

CAP STYLE - Female

MECHANICAL TACH DRIVE - Yes

COIL TYPE - External

RECOMMENDED COIL OUTPUT - 35,000+ Volts

GEAR MATERIAL - Steel

HOUSING MATERIAL - Machined Aluminum
HIGH-OUTPUT CIRCUIT BOARD MODULE
What separates a Ready to Run from a Pro Billet is the top-of-the-line internal ignition module. Build using the latest circuit board technology, this module eliminates the need for external ignition control, such as a CDI box. It also comes with a digital tachometer output. With a Pro Series Ready to Run distributor, just hook up your ignition coil, and you're good to go.
INCLUSIONS:



3 Bushings and 4 Springs for Mechanical Advance

Color-Matched Spark Plug Wire Retainer with Screws

Vacuum Advance Block-off Plate (Black)

Power Extension Cable

Tachometer Output Extension Cable
COMPATIBLE WITH:
FORD Y-BLOCK V8



4.5 L / 272 ci

4.8 L / 292 ci

5.1 L / 312 ci
FREE SHIPPING IN THE CONTINENTAL USA!!!
Fitment