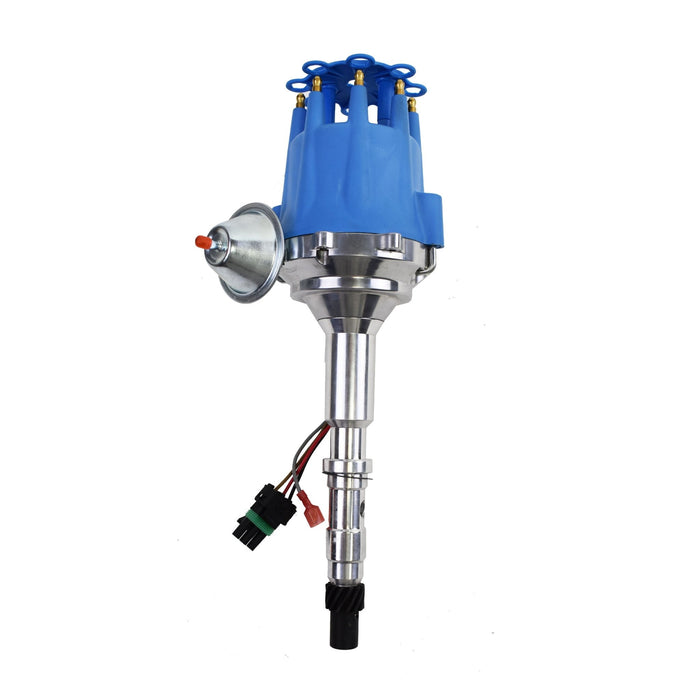 Pro Series Ready to Run R2R Distributor For AMC Jeep 290 304 343 360 390 401, V8 Engine, Blue Cap
Sold out
Original price
$129.99
-
Original price
$129.99
Availability:
Out of stock
A-Team Performance Pro Series Ready to Run R2R Distributor Compatible With AMC Jeep 290 304 343 360 390 401 V8 Engine Blue Cap.
A-Team Performance Pro Series Ready to Run Distributor is perfect for a street performance ignition upgrade. It features a CNC-machined billet aluminum body and hardened steel shaft, with a sealed ball bearing on top and a sintered steel bushing on the bottom. It also comes with a fully adjustable mechanical advance, magnetic pickup trigger, a vacuum advance (not adjustable), and a high-output circuit board module with a digital tach output. The dielectric cap comes with solid brass terminals and a color-matched wire retainer.
SPECIFICATIONS



TRIGGER STYLE: Circuit Board Module with Magnetic Pick-up

DISTRIBUTOR ROTATION: Clockwise

ADVANCE TYPE: Mechanical and Vacuum

CAP STYLE: Male

COIL TYPE: External

RECOMMENDED COIL OUTPUT: 35,000+ Volts

GEAR MATERIAL: Steel

HOUSING MATERIAL: Machined Aluminum

CYLINDERS: 8
NOTES:



Distributor gear is most compatible with cast iron hydraulic or solid flat tappet camshafts; consult cam manufacturer for recommended gear material.

A-Team Performance suggests using our 50,000 Volt E-Coil to Power this Pro Series Distributor. Search our listings for "A-Team Performance E-Coil".
COMPATIBLE WITH:
AMC V8



4.8 L/290 ci

5.0 L/304 ci

5.6 L/343 ci

5.9 L/360 ci

6.4 L/390 ci

6.6 L/401 ci
Free shipping in the continental USA!
Fitment