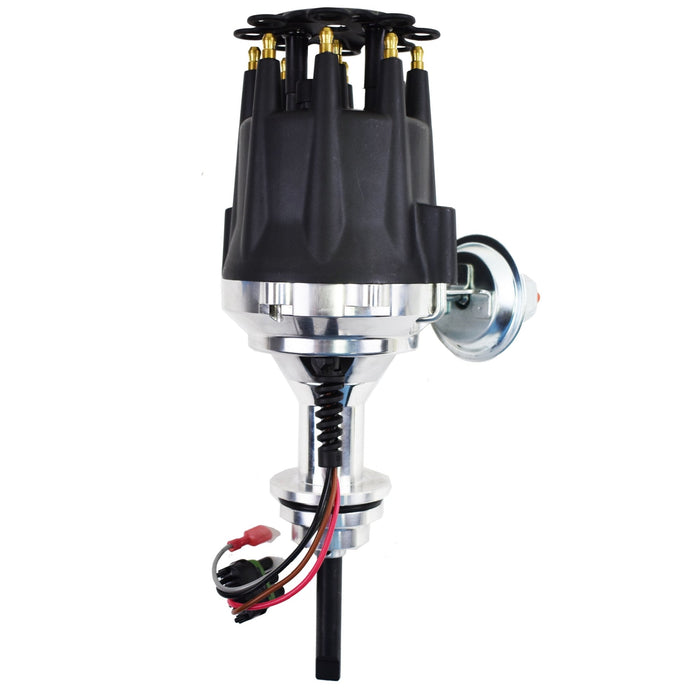 Pro Series Ready to Run R2R Distributor For Mopar Dodge Chrysler 273 318 340 360, V8 Engine, Black Cap
Original price
$129.99
-
Original price
$129.99
Availability:
In stock and ready to ship!
A-Team Performance Pro Series Ready to Run R2R Distributor Compatible With Mopar Dodge Chrysler 273 318 340 360, V8 Engine, Black Cap
A-Team Performance Pro Series Ready to Run Distributor is perfect for a street performance ignition upgrade. It features a CNC-machined billet aluminum body and hardened steel shaft, with a sealed ball bearing on top and a sintered steel bushing on the bottom. It also comes with a fully adjustable mechanical advance, magnetic pickup trigger, a vacuum advance (not adjustable), and a high-output circuit board module with digital tach output. The dielectric cap comes with solid brass terminals and a color-matched wire retainer.
FULLY ADJUSTABLE MECHANICAL ADVANCE
An important feature on all A-Team Performance distributors is the fully adjustable mechanical advance. This allows you to easily modify the distributor to achieve a variety of timing curves. Included with all Pro Series distributors are four bushings of varied size. The bushing determines the mechanical advance the distributor can achieve. Also included are six springs, with two at each level of tension. The springs control the rate at which the distributor reaches the advance.
FITMENT
MOPAR SMALL BLOCK "LA" V8
273 ci - 4.5 L
318 ci - 5.2 L
340 ci - 5.6 L
360 ci - 5.9 L
FITMENT NOTES
Will not fit "Magnum" engines
Distributor gear is most compatible with cast iron hydraulic or solid flat tappet camshafts; consult cam manufacturer for recommended gear material.
A-Team Performance Suggests using our 50,000 Volt E-Coil to Power this Pro Series Distributor. Search our listings for "A-Team Performance E-Coil".
Free shipping in the continental USA!
Fitment