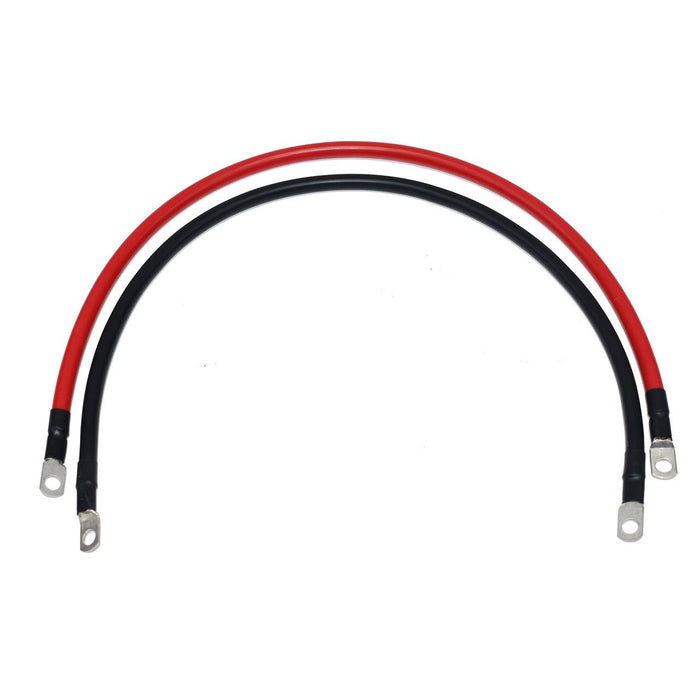 Pure Copper Battery Cable 2 Foot 4 Gauge AWG Wire Set 5-16" M8
Original price
$14.99
-
Original price
$14.99
Availability:
In stock and ready to ship!
A-Team Performance 2 Foot 4 Gauge AWG 5/16" Lugs Pre-Assemble M8 Pure Copper Battery Cable Wire Set
A-Team Performance 2 foot 4 AWG battery cable sets come professionally assembled with 5/16" ring terminals or alligator clamps and are perfect for connecting up to a 1500 watt power inverter to a battery bank or tieing batteries together. You can also use A-Team Performance battery cables for replacement automotive, motorcycle, RV, camper, travel trailer & other vehicle wiring applications, grounding cables, golf carts, car audio stereo amplifiers, solar and many other DC applications. These 100% pure copper cable sets come with adhesive lined irradiated polyolefin (PO) heat shrink, which is exceptionally resistant to water.

Battery Cable & Wire Features:
Polyvinyl-chloride (PVC) insulation
90°C MTW - UL & CSA 105°C
Voltage rating: 600 volts
VW-1 & moisture resistant
Shrink ratio: Approximately 3 to1 at +90°C
Operational temp. range: -55°C to +135°C
Dielectric strength: 500 V/mil (197 kV/cm)
Volume resistivity: 1014 ohm-cm
Tensile strength: 1500 psi

Ring Terminal Features:
Seamless Tubular Barrel
Non-Insulated
Tin-Plated Copper
Free shipping in the continental USA except HI, AK AND PR.
Fitment