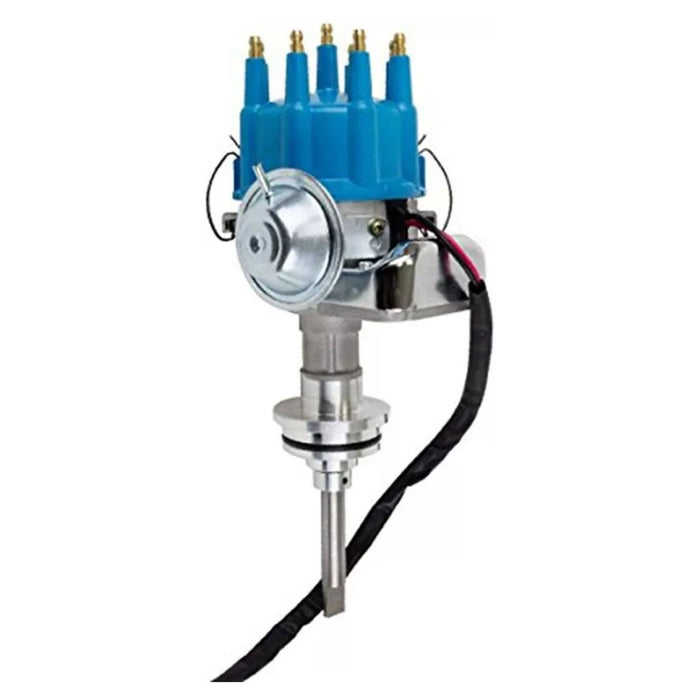 R2R Ready 2 Run Complete Distributor Compatible with Mopar Chrysler Dodge Big Block 413 426 440 Two-Wire Installation Blue Cap
Original price
$54.99
-
Original price
$54.99
Availability:
In stock and ready to ship!
A-Team Performance R2R Ready 2 Run Complete Distributor Compatible with Mopar Chrysler Dodge Big Block 413 426 440 Two-Wire Installation Blue Cap
Requires an external coil Ready-to-Run distributors are the perfect upgrade for outdated points distributors or bulky HEI distributors. A maintenance-free magnetic pickup accurately triggers this ignition. The increased output of the internal ignition easily outperforms stock ignitions and will smooth out the engine's idle, improve starting and provide a much higher RPM range.
For stability and endurance, an over-sized steel shaft spins in a top mounted sealed ball bearing while an extra long sintered bushing guides the shaft at the base of the housing. Features an adjustable mechanical advance which allows you to custom tailor an ignition curve to match your engine's needs. There is also a vacuum advance canister to help improve economy. We offer a one-year warranty on this A-Team Performance Distributor's.
FITMENT
CHRYSLER BIG BLOCK "RB" V8
413 ci - 6.8 L
426 ci - 7.0 L
440 ci - 7.2 L
CHRYSLER HEMI V8 GEN. II
426 ci
Free shipping in the continental USA!
Fitment