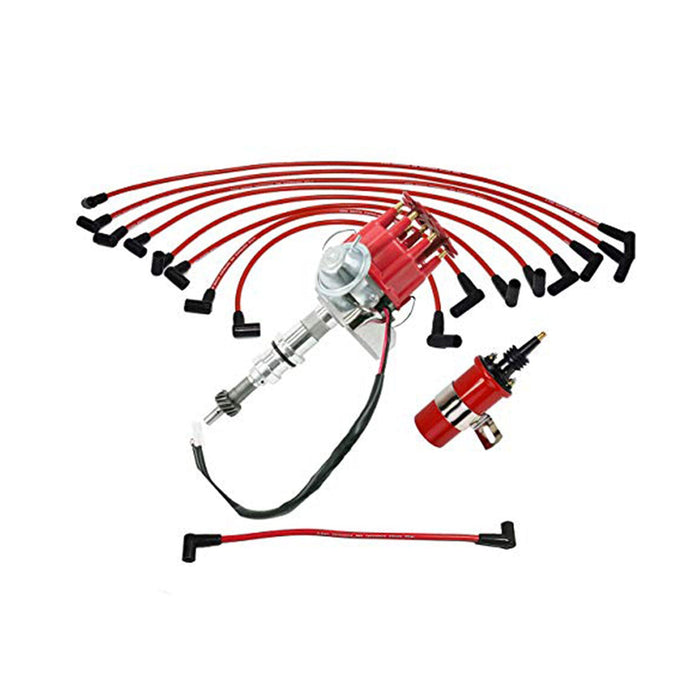 Ready 2 Run Distributor, 8.0mm Spark Plug Wires, 45k Volts Canister Coil, and Coil Wire For Ford Small Block SBF 221 260 289 302 Two-Wire Installation Red Cap
Original price
$124.99
-
Original price
$124.99
Availability:
In stock and ready to ship!
A-Team Performance Ready 2 Run Distributor, 8.0mm Spark Plug Wires, 45k Volts Canister Coil, and Coil Wire Compatible with Ford Small Block SBF 221 260 289 302 Two-Wire Installation Red
A maintenance-free magnetic pickup accurately triggers this ignition. The increased output of the internal ignition easily outperforms stock ignitions and will smooth out the engine's idle, improve starting, and provide a much higher RPM range. For stability and endurance, an over-sized steel shaft spins in a top-mounted sealed ball bearing while an extra-long sintered bushing guides the shaft at the base of the housing. Features an adjustable mechanical advance that allows you to custom-tailor an ignition curve to match your engine's needs. There is also a vacuum advance canister to help improve the economy.
Compatible With:
Ford Small Block Windsor V8
3.6 L / 221 ci
4.3 L / 260 ci
4.7 L / 289 ci
4.9 L / 302 ci generally referred to as 5.0 L
Fitment Notes: Will not fit 351W
A-Team Performance 45,000 Volt Oil Filled Canister Male Ignition Coil Red
A-Team Performance brings you the classic canister – sometimes called "beer can" – style ignition coil. Constructed of high-quality materials, utilizing top manufacturing standards, this coil provides superior quality and performance. With a whopping 45,000-volt output, you'll have more than enough spark for any performance distributor set-up.
8.0mm Red Silicone Spark Plug Wire Set:
Black 90-Degree Boot for HEI Distributor, 45-Degree Boot for Spark Plug. High-temperature tolerance and is made of 100% pure silicone insulator for the outer layer. Spiral-Wound Copper Conductor has Extremely Low Resistance combined with extremely high EMI suppression.
A-Team Performance 8.0mm 16″ Coil Wire Red Silicone Spark Plug Wire
Black 90 Degree Boot for Distributor, Black 90 Degree Boot for HEI Style Male Coil.
Free shipping in the continental USA!
Fitment