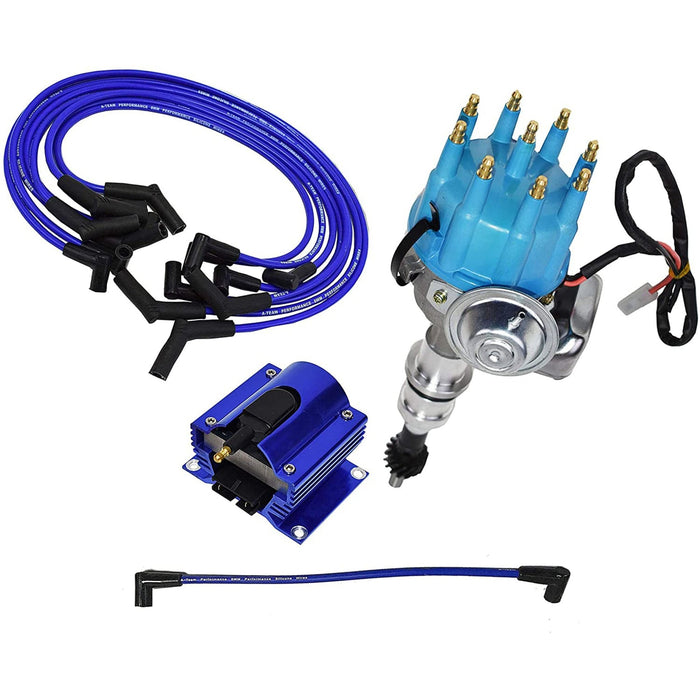 Ready 2 Run Distributor, 8.0mm Spark Plug Wires, 50k Volts E-Coil, and Coil Wire For Ford Windsor V8 221, 260, 289, 302 Blue Cap
Save

20

%
Save

20

%
Original price
$162.49
-
Original price
$162.49
Availability:
In stock and ready to ship!
A-Team Performance Ready 2 Run Distributor, 8.0mm Spark Plug Wires, 50k Volts E-Coil, and Coil Wire Compatible with Ford Windsor V8 221, 260, 289, 302 Blue Cap
A-Team's Ready to Run distributor is designed for easy installation. With the included ignition module, all you'll need to complete your set-up is a coil. Using simple design elements throughout, it's a great way to get an easy-to-install ignition. With an aluminum housing, steel internal construction, and a high-quality ignition module, this distributor will get the job done.
Compatible With:
Ford Small Block Windsor V8
3.6 L / 221 ci
4.3 L / 260 ci
4.7 L / 289 ci
4.9 L / 302 ci generally referred to as 5.0 L
8.0mm Blue Silicone Spark Plug Wire Set:
Black 90-Degree Boot for HEI Distributor, 45-Degree Boot for Spark Plug and Coil-in-Cap HEI Design System, High-temperature tolerance and is made of 100% pure silicone insulator for the outer layer. Spiral-Wound Copper Conductor has Extremely Low Resistance combined with extremely high EMI suppression.
E-Core Ignition Coil Remote Billet Aluminum Male E-Coil 50,000 Volts Blue
E-Core 70% more spark energy overstock. Creates a hotter more efficient spark for smooth acceleration through the entire RPM band.
A-Team Performance 8.0mm 16″ Coil Wire Blue Silicone Spark Plug Wire
Black 90 Degree Boot for Distributor, Black 90 Degree Boot for HEI Style Male Coil.
Free shipping in the continental USA!
Fitment