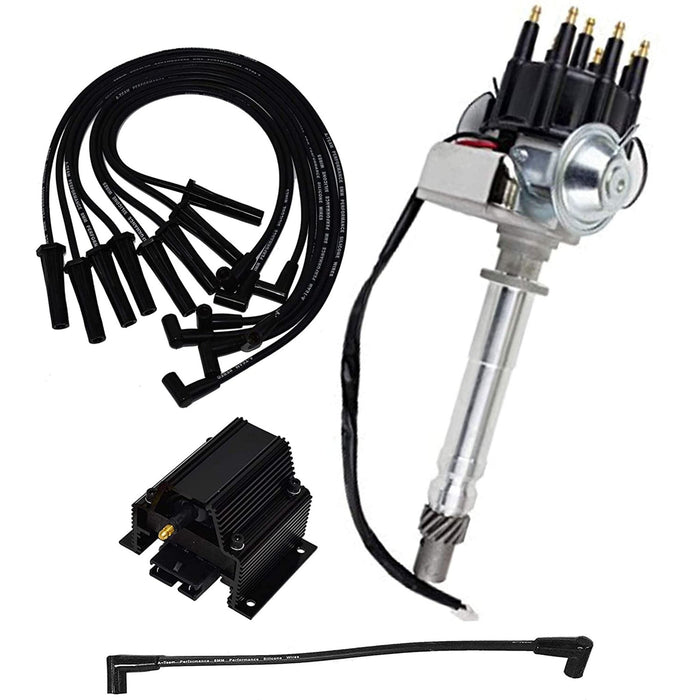 Ready 2 Run Distributor, 8.0mm Under the Exhaust Spark Plug Wires, 50K Volts E-Coil, and Coil Wire For Chevrolet Small Block SBC 283 305 307 327 350 400 Black Cap
Original price
$139.99
-
Original price
$139.99
Availability:
In stock and ready to ship!
A-Team Performance Ready 2 Run Distributor, 8.0mm Under the Exhaust Spark Plug Wires, 50K Volts E-Coil, and Coil Wire For Chevrolet Small Block SBC 283 305 307 327 350 400 Black Cap
Requires an external coil Ready-to-Run distributors are the perfect upgrade for outdated points distributors or bulky HEI distributors. A maintenance-free magnetic pickup accurately triggers this ignition. The increased output of the internal ignition easily outperforms stock ignitions and will smooth out the engine's idle, improve starting and provide a much higher RPM range.
Compatible With:
Chevrolet Small Block V8 Gen. I
4.3 L / 262 ci
4.3 L / 265 ci
4.4 L / 267 ci
4.6 L / 283 ci
4.9 L / 302 ci
5.0 L / 305 ci
5.0 L / 307 ci
5.4 L / 327 ci
5.7 L / 350 ci
6.6 L / 400 ci
Black Silicone Spark Plug Wires
- 8.0mm Black Silicone Wires
- Under The Exhaust Wires
- Black 90 Degree Boot for the Distributor, Black 90 Degree Boot for Spark Plug
Remote E-Coil Ignition Coil Black 50,000 Volt
Has a new design that better dissipates heat. Its square shape allows for easy mounting on a firewall or fender, and it comes with a plug wire connector for a clean installation. The E-Core magnet puts out 50,000 volts, or about 70% more spark energy over most stock applications, giving you a much hotter and larger spark to burn fuel more efficiently and provide smooth acceleration throughout the entire RPM band.
A-Team Performance 8.0mm 16″ Coil Wire Black Silicone Spark Plug Wire
Black 90 Degree Boot for Distributor, Black 90 Degree Boot for HEI Style Male Coil.
Free shipping in the continental USA!
Fitment