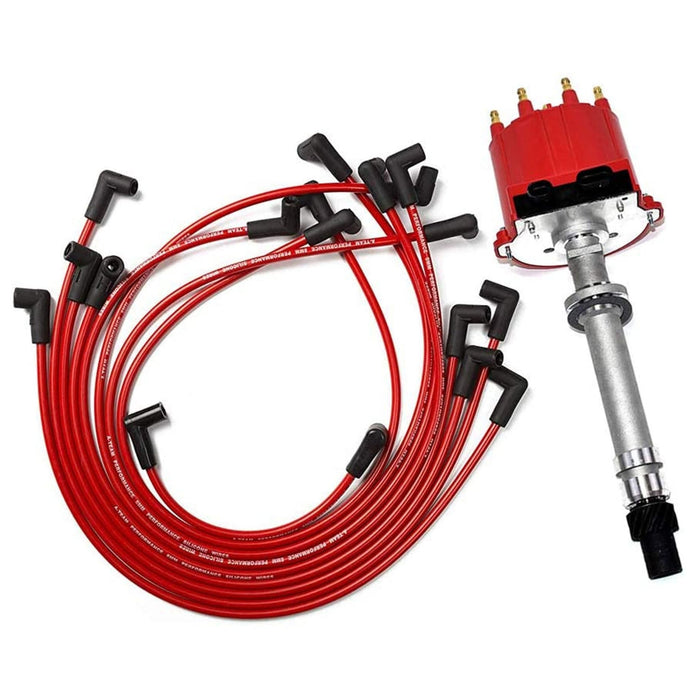 SBC BBC EFI TBI Distributor and Spark Plug Wires Compatible With GMC CHEVY 1987-1997 5.0L 5.7L C-K Pickup Truck Van Camaro 305 350 HEI652R Red Cap 2-in-1 Kit
Original price
$72.99
-
Original price
$72.99
Availability:
In stock and ready to ship!
A-Team Performance SBC BBC EFI TBI Distributor and Spark Plug Wires Compatible With GMC CHEVY 1987-1997 5.0L 5.7L C/K Pickup Truck Van Camaro 305 350 HEI652R Red Cap 2-in-1 Kit
EFI TBI DISTRIBUTOR:
A-Team's OEM replacement EFI distributors are direct replacements for stock units, but with improvements throughout. With a CNC-machined aluminum housing, steel internal construction, and a high-quality magnetic pick-up trigger, this distributor will provide OE fit and greatly improved performance and reliability.
FITMENT
305 ci - 5.0 L
350 ci - 5.7 L
SPARK PLUG (RED):
A-Team Performance spark plugs are high premium quality spark plugs that are compatible w/ Chevy Chevrolet GMC 4.3L 5.0L 5.7L TBI EFI. It is in Black with 90 Degree Boot for HEI Distributor, and Black 90 Degree Boot for Spark Plug. For TBI EFI Distributors. This wire Kit includes an external coil wire. We offer a one-year warranty on this A-Team Performance Spark Plug Wire Set.
INLUSIONS:
A-Team Performance SBC BBC EFI TBI Distributor
A-Team Performance 8.0mm Red Silicone Spark Plug Wires
Free shipping in the continental USA!
Fitment