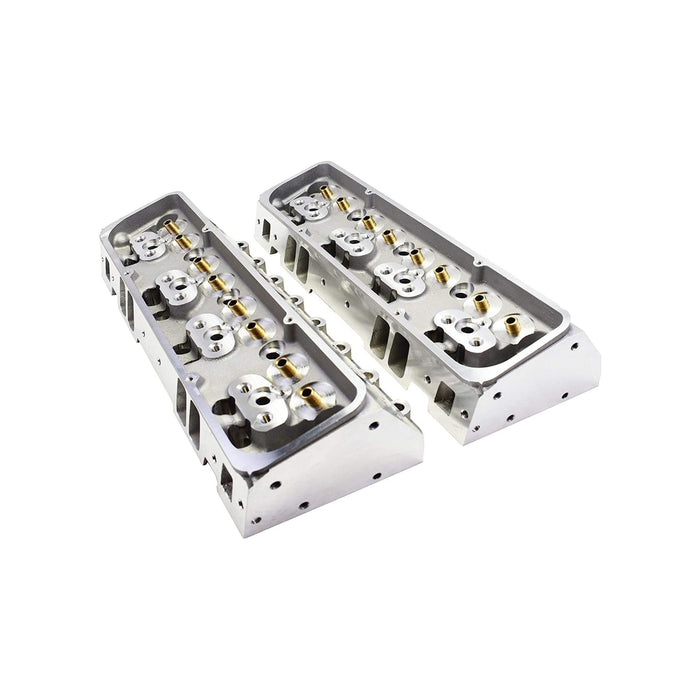 SBC Small Block Chevy GM Straight Plug Aluminum Cylinder Head Set 64cc 2.02-1.60
Sold out
Original price
$379.99
-
Original price
$379.99
Availability:
Out of stock
A-Team Performance Small Block Straight Plug Aluminum Cylinder Heads, 64cc Chamber, 205cc Intake Ports, 2.020 Intake Valve & 1.600 Exhaust Valve. Fully machined surfaces, ready to assemble, Set of 2.
These Bare Aluminum SBC heads have a 205cc Runner with 64cc combustion chambers with heart-shaped chambers. These heads feature a Straight plug design. The valve guides are bronze, and the valve seats are all hardened and will accept a 2.020 Intake valve (without machining) and up to a 2.050 intake valve (with machining). Inside the pocket of the intake has a ridge that produces a better swirl of air flow and a 1.600 exhaust valve with a smooth pocket to exit the gas quickly. These heads require a 0.100" longer than Stock Valve.
The exhaust and intake surface are flat and have been fully machined and will accept both Vortec style and a conventional style SBC intake. Head also features a deck thickness of .625. Spring seats are cut to 1.550 diameters to allow almost any spring combination. Note these heads have no steam holes so they will not work with the 400 ci engines.
We are proud to bring you these cost-effective, yet quality SBC performance heads to you. Just one look at the external finish of heads and it is easy to see why you should choose them!
Features:
Intake Runner Volume: 205cc
Combustion Chamber Volume: 64cc
Intake Valve Diameter: 2.020" (up to 2.050 with machining, we do not offer this service)
Exhaust Valve Diameter: 1.600"
Intake Port: Square
Exhaust Port: Square
Spark Plug Angle: Straight
Pre-Drilled Accessory Bolt Holes
Lighter than OEM Iron Heads. Each Head weighs 22 lbs
These cylinder head do not have 400 stem holes. Drilling required drilling. (we do not offer this service.)
Included:
2 - Bare Aluminum Heads (as pictured)
Not included:
Valves, Hardware, Springs and, Retainers.
Fitment:
SBC engines 283, 302, 305, 327, 350, 383 & 400 up to 1986.
Check out our other listing for Bolt on Fully Assembled Heads!
FREE GROUND SHIPPING IN THE CONTINENTAL US!
Fitment