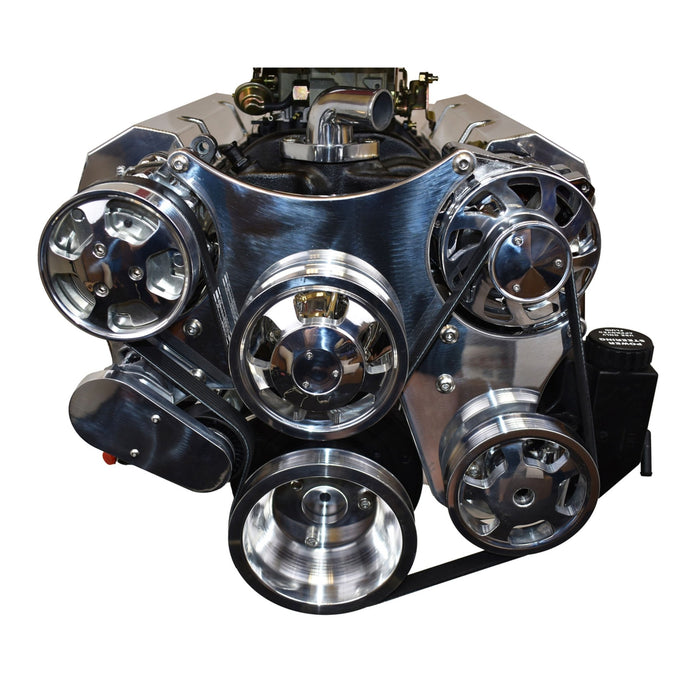 Small Block Serpentine Front Drive System Complete With Brackets and Pulleys, Water Pump, Alternator, A-C Compressor and Power Steering Reservoir Compatible with Chevy Chrome
Original price
$1,399.99
-
Original price
$1,399.99
Availability:
In stock and ready to ship!
A-Team Performance Small Block Serpentine Front Drive System Complete With Brackets and Pulleys, Water Pump, Alternator, A/C Compressor and Power Steering Reservoir Compatible with Chevy Chrome
Designed for efficiency and style, A-Team's Chevy small block serpentine front drive system is sure to turn heads. If you're looking for a way to dress up engine swap, look no further. And the best part: this kit comes with everything you need, from brackets and pulleys to the belt and accessories. Even the P/S Reservoir!
BRACKETS AND PULLEYS
Easily the biggest draws to this kit are the brackets and pulleys. CNC-machined from 6061-T6 aluminum, they are available in a stylish black or gorgeous polished finish. They compliment the accessories perfectly, and will fit your
WATER PUMP
A-Team's high-flow mechanical water pump provides that extra cooling power your high-performance engine demands. Composed of lightweight A356 aluminum, the casting manages heat better than cast iron, and with an improved internal construction, it flows up to 40% above stock.
ALTERNATOR
Providing the electrical power in this kit is our 160-amp GM CS130 style alternator. It features an internal regulator, one-wire capability, and a convenient battery side post.
A/C COMPRESSOR
A-Team's Sanden SD7 style A/C compressor provides high-performance cooling in a compact package. It pumps 6.1 cubic inches per revolution with a maximum 9,000 sustained RPM range.
POWER STEERING PUMP
When it came time to address power steering with this kit, we looked to the immensely popular GM Type II. It's been designed for performance and reliability, meeting or exceeding OEM specifications.
FITMENT
CHEVROLET SMALL BLOCK V8 GEN. I
262 ci - 4.3 L
265 ci - 4.3 L
267 ci - 4.4 L
283 ci - 4.6 L
302 ci - 4.9 L
305 ci - 5.0 L
307 ci - 5.0 L
327 ci - 5.4 L
350 ci - 5.7 L
400 ci - 6.6 L
Free Shipping in the Continental USA!
Fitment